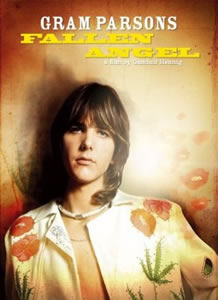 ANNOUNCEMENT
We know of no North American broadcast of Gram Parsons: Fallen Angel. However the DVD release of this wonderful Gandulf Hennig production is OUT NOW via Rhino/Warner Bros. (R2 970422).
This new DVD has extra footage not seen in the original BBC TV broadcast back in 2004 and is worth its weight in plutonium to the Gram fan in your household.
Buy it now at Amazon.co.uk.
Sid spent a large part of 2003 working on this BBC TV Gram Parsons documentary with producer/director Gandulf Hennig and the results proved fruitful. Entitled Gram Parsons: Fallen Angel it was shown on BBC Four to great reviews in March 2004. On September 3, 2004 it was shown terrestrially on BBC Two.
---
Sid is an acknowledged expert on the career of Gram Parsons, having written a book on GP as well as sleevenotes for several compilations of Gram's music, and his band The Coal Porters have recorded many of Gram's songs (witness their 1999 CD The Gram Parsons Tribute Concert);
---
The Gram Parsons Tribute Concert
On 19th September 1998, the Coal Porters headlined a Gram Parsons tribute show at The Garage in London, playing only Gram Parsons material. This show was recorded and released as a live CD on Prima Records in February 1999. To promote the album The Coal Porters toured the UK, Moldavia, Slovenia and Scandinavia playing a full set of GP material. A reissue DVD of that September 1998 show is also now released.
The new revised edition of Phil Kaufman's book Road Mangler Deluxe contains a section on the Gram Fest events which gives Sid a couple of mentions, one of them rather cutting. Thanks, Phil, what did I ever do to you!?!?!
November Nights was written by Gram but only released as a single by Peter Fonda. The Coal Porters recorded this song for Conmemorativo – A Tribute To Gram Parsons which was released by Rhino Records in 1993.
Apple Tree is another Gram composition which he never recorded commercially. This was first covered by Johnny Rivers on his long deleted album Slim Slo Slider and is revived by the Coal Porters on their 1995 album, Los London, which is available from this website.
---
GRAM PARSONS: A MUSIC BIOGRAPHY by Sid Griffin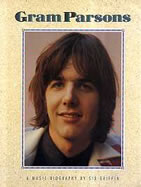 Published by Sierra Books: 2nd Edition ISBN 0-916003-00-0 (hardback) 0-916003-01-9 (paperback)
"Gram Parsons – A Music Biography delves into a complex, elusive personality with rewarding insights. Herein are recorded myriad revealing comments from the late Parsons' closest friends and associates, including fellow Byrd and Burrito Chris Hillman, Emmylou Harris, Peter Fonda, Jim Stafford, John Nuese, Paul Surratt, Marley Brant (we don't know, either), and rare interviews with Parsons himself.
An extensive array of photographs from all aspects of Parsons' life has been amassed. This book endeavours to bring you a comprehensive substantial examination that does not belie its origin as a labour of love."
Sierra Records, Books & Home Video
P.O. Box 5853, Pasadena, California 91117-0853 USA
---
Some of the compilations for which Sid has contributed sleevenotes are:
---
:: The International Submarine Band: Safe At Home Shiloh (1985), Raven (2004)
A reissue of Gram's first LP release, this is the only album Sid has written reissue liner notes for twice…talk about staying in the record industry for a long time!
---
:: The Byrds Columbia/Legacy
A 4 CD compilation from the Byrds long career, including some vocals by Gram removed from the original release of tracks from the album Sweetheart Of The Rodeo. Sid also compiled and annotated Mojo magazine's An Introduction To The Byrds release.
---
:: Farther Along, The Best Of The Flying Burrito Brothers A & M (USA)
A Gram Parsons era Burritos compilation featuring several rare tracks.
---
:: The Flying Burrito Brothers: Out Of The Blue A & M (Europe)
Remastered 2 CD set based around the careers of Gram and Chris Hillman with the Burrito Bros., including rare tracks Sid discovered and mixed. (Sid mixed or remixed several Burrito tunes in his reissue career, a dream job for such a great fan of the band's.)
---
:: The Flying Burrito Brothers: The Gilded Place Of Sin & Burrito Deluxe A & M (Europe)
The two classic albums remastered on one CD with one minor extra bit.
---
:: Gram Parsons: Cosmic American Music Sundown/Magnum Force
A collection of demo and rehearsal recordings by Gram with Emmylou Harris and the Fallen Angels. Mostly recorded by on a ghetto blaster in various hotel rooms, and consequently of poor quality but of some historical interest. A few of the selections are backing tracks to solo album tunes or early and rough mixes of songs subsequently polished up for public consumption.
---
:: Gram Parsons & The Fallen Angels: Live 1973 Sierra
Originally a radio broadcast as part of the tour promoting the GP album this has been issued and reissued by Sierra many, many times. (They really need to think about pushing the boat out a little farther.)
---