All in print Prima releases are available here from the Sid Griffin store.
---
Prima Records is primarily, but not exclusively,  an outlet for Sid Griffin projects be they Coal Porters, Sid Griffin as a solo act or the Long Ryders.

---
SIDHIT007 – The Long Ryders – Bear in the Woods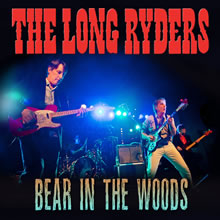 Bear in the Woods
Penned by bassist/vocalist Tom Stevens and produced by Adrian Olsen and The Long Ryders Bear in the Woods is the first new Long Ryders song in 30 years!
Songwriter Tom Stevens offers the following about his new tune
"The message is complex. I wrote this song about a bear, a friendly one, approaching it like a children's song. But what emerged under its surface was different. I likely had the state of politics on my mind. The bear in this song may not be the friendly, all-knowing guru that he appears. But in real life, it's up to us to seek our best hopes and not our worst fears in our gurus. Lately I feel that too many have done the latter."
Lead guitarist/vocalist Stephen McCarthy explains how the new music came about
"The band played a number of shows in 2016 and we felt it would be worthwhile to try and write/record some new material. Greg flew out to Virginia and we recorded a few new songs at Adrian Olsen's Montrose Studio. Sid and Tom sent new tunes over and we recorded remotely for the first time."
"Whenever I hear this first new Long Ryders' song in thirty years it only takes me about half a minute before I have to push back my chair, turn the volume UP, and start dancing around the room like a happy fool. A killer Tom Stevens' song, a strong ensemble performance; a real true thrill to be back in the saddle again, riding high with The Long Ryders, my musical home away from home." – Sid Griffin
"Thirty years goes by in the spin of a wig hat. We wanted to give our fans something new for our spring tour. It's so great to be back in the studio with my favorite rock 'n' roll band. We hope you like this new music as much as we do." – Greg Sowders
---
SID027 – The Coal Porters – No. 6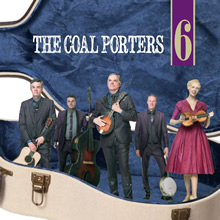 The Day the Last Ramone Died / Save Me from the Storm / The Blind Bartender / Chopping the Garlic / Salad Days / Unhappy Anywhere / Train No. 10-0-5 / Play a Tune / The Old Style Prison Break / Another Girl, Another Planet
The Coal Porters new album, No. 6, is produced by John Wood, the legendary British folk-rock mastermind who recorded the classic albums of Fairport Convention, Nick Drake, Beth Orton and Squeeze. No. 6 is a bit of a departure for the Coal Porters as it pushes their musical boundaries further than ever before.
This new album features Kerenza quadruple tracking herself into a string quartet, Andrew on a ukulele, Sid on trusty autoharp and mandolin, both Neil and Paul on dobro, a Byrdsy acoustic 12-string guitar, and very emotional, long, sweet trumpet solo by Cuba's noted "son y mambo" music virtuoso Eikel Venegas. There has never been music like this before. And already, the album's opening track, Sid's "The Day The Last Ramone Died," is being hailed as a classic (and a much viewed video on YouTube).
Recorded in two creative bursts in late 2014 and in 2015 this is the Coal Porters album which took three years to incubate. Four new Sid songs, three new Neil Bob Herd originals, and Kerenza Peacock contributed her first recorded lead vocal on a very personal song with Play A Tune while also gracing the record with a totally catchy instrumental, Chopping The Garlic. The album goes out on a high note with the band's warm-hearted cover of the Only Ones' classic hit Another Girl, Another Planet.
---
SID026 – Sid Griffin – The Trick Is To Breathe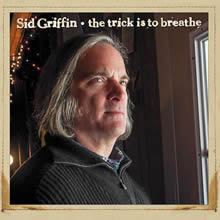 Ode To Bobbie Gentry / Blue Yodel No. 12 & 35 / Circle Bar / Between The General And The Grave / Elvis Presley Calls His Mother After The Ed Sullivan Show / Everywhere / Get Together / Front Porch Fandango / Punk Rock Club / Who's Got A Broken Heart / We've Run Out Of Road / I'll Forget You Very Well
The Trick Is To Breathe is Sid Griffin's first solo album in a decade. Recorded in Nashville, Tennessee at the home studio of Thomm Lutz in February 2014 it was a joyous, easy and (almost) carefree session, the entire album completed in four days.
"Before Christmas I had sent some Nashville friends acoustic demos of my songs and of my new arrangement of a version of The Youngbloods' great Get Together. These men and women had learned the songs off my demos and most of the songs we recorded were second takes…in fact these players are so accomplished I don't think any track was recorded in more than four takes," recalls Griffin.
Sid played mandolin on two tracks, guitar on about six more, but the core of the band was Mark Fain from Ricky Skagg's Kentucky Thunder outfit on bass, the great virtuoso Sierra Hull on mandolin, Paul Griffiths on drums, Thomm Jutz on guitar, Justin Moses on banjo, fiddle and dobro, and gospel legend James T. Brown on backing vocals. Other than Thomm Jutz and Paul Griffiths none had met Sid before the sessions began.
---
SID025 – The Coal Porters – Find The One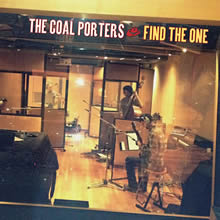 Barefoot On The Courthouse Lawn / Never Right His Wrong / Hush U Babe; Burnham Thorpe / The Betsey Trotwood / Heroes / Red-Eyed & Blue / Ask Me Again / Brand New Home / Gospel Shore / You Only Miss Her When She's Gone / Farmers' Hands / Paint It, Black
listen to audio samples here;
Audio clip: Adobe Flash Player (version 9 or above) is required to play this audio clip. Download the latest version here. You also need to have JavaScript enabled in your browser.
Find The One is the Coal Porters' fifth and most accomplished album since they unplugged, forgot about the electricity bill and prepared for global warming by morphing into an entirely acoustic act.
Produced by British folk-rock legend John Wood, the man behind the early classic LPs by Fairport Convention, Nick Drake, and later on recording both Squeeze and Beth Orton, Find The One features five fine Sid Griffin songs, a trio from Scottish guitarist Neil Robert Herd, and Find The One also announces the entry of world-class singer, ace bassist, and all-around nice guy Tali Trow into the Coal Porters.
The CD of Find The One even includes a seven minute documentary film encoded on it, playable on any computer. The film is by Toby Cameron and Richard Crandon of On-Par Productions and dynamically illustrates everything warm, musical, funny and human about the band within its short seven minute span.
No Coal Porters album can exist without a nod to the greats who have so inspired Sid Griffin and his merry cohorts and Find The One is no exception. Sid's harrowing tale of a slave family's escape on the Underground Railroad, Hush U Babe, features the astonishing guitar of ex-Fairport Convention guitar guru Richard Thompson (!) and listeners will also hear a formal DJ introduction of Sid's love ballad Ask Me Again by the BBC's legendary Brian Matthew, not only a man who knew The Beatles on a first name basis back in the day but whose Saturday Radio 2 show is the Beeb's most popular show today. Now that is a career!
---
SID024 – Native Sons – The Long Ryders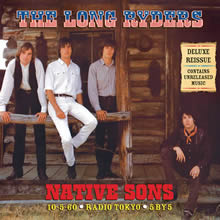 Final Wild Son/ Still Get By/ Ivory Tower/ Run Dusty Run/ (Sweet) Mental Revenge/ Fair Game/ Tell It To The Judge On Sunday/ Wreck Of The 809/ Too Close To The Light/ Never Got To Meet Her/ I Had A Dream/ Join My Gang (first of sixfrom tracks 10-5-60 EP)/ You Don't Know What's Right, You Don't Know What's Wrong/ 10-5-60/ Born To Believe In You/ The Trip/ And She Rides/ Time Keeps Travelling (first of three tracks from abandoned "5 by 5" sessions) / I Can't Hide/ Masters Of War/ Still Get By ( first of three tracks Radio Tokyo sessions, 1983) / 10-5-60/ And She Rides/ Too Close To The Light (b-side mix, UK only)
listen to audio samples here;
Audio clip: Adobe Flash Player (version 9 or above) is required to play this audio clip. Download the latest version here. You also need to have JavaScript enabled in your browser.
Native Sons is the album which Jeff Tweedy, Chris Robinson, Kurt Cobain and Gary Louris all bought and loved, influencing their own styles. It was a huge hit on the College Radio/Alternative Charts in the USA in 1984 and by spring 1985 it was number two on the New Musical Express Indie Chart, held off the top spot by the Smiths' Meat Is Murder. Arguably the most influential and long-lasting release of Sid Griffin's career Native Sons is now re-released with the entire 10-5-6- EP added as well as three tracks fromt the abandoned 5 By 5 sessions at A&M Studios, the Long Ryders' first three demos and the B-side Close To The Light, a completely different mix to the LP version. This is the LP which kickstarted Americana and put the "alt" into Alt-Country!
---
SID023 – DURANGO – The Coal Porters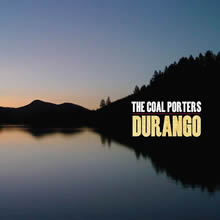 Let's Say Goodbye (Like We Said Hello)/No More Chains/Moonlight Midnight (feat. Peter Rowan)/I'm Not Going Away/One Is Way Too Many/The Squeaky Wheel Gets the Oil/Pretty Polly/Like a Hurricane/Permanent Twilight/Roadkill Breakdown (feat. Tim O'Brien)/Lookin' for a Soft Place to Fall/Closing Time Genius/Sail Away, Ladies!
Audio clip: Adobe Flash Player (version 9 or above) is required to play this audio clip. Download the latest version here. You also need to have JavaScript enabled in your browser.
Recorded during two fruitful weeks in the mountains right outside the Colorado town which gave the album its name this is the fourth and best "alt-bluegrass" album by ex-Long Ryder Sid Griffin's outfit, The Coal Porters. This highly anticipated follow up to 2007's Turn The Water On, Boy! is a clear country mile step forward. Featuring the amazing fiddle of Carly Frey, the songs and mandolin of writer/author/broadcaster Sid Griffin and the production of the legendary Ed Stasium (Ramones, Smithereens, Belinda Carlisle, the Long Ryders, Jeff Healey Band) without question Durango is one of the choice musical highlights of the year.
---
SID021 – STATE OF OUR REUNION – LIVE 2004 – The Long Ryders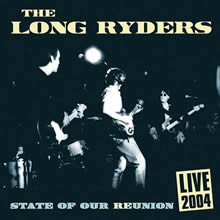 So You Wanna Be A Rock & Roll Star?/Lights Of Downtown/You Don't Know What's Right, You Don't Know What's Wrong/A Stitch In Time/Prairie Fire/Wreck Of The 809/Gunslinger Man/Years Long Ago/I Can't Hide/Ivory Tower/Capturing The Flag/Band Introduction (Glasgow)/I Had A Dream/Final Wild Son/(Sweet) Mental Revenge/State Of Our Union/Looking For Lewis & Clark/Louisville/10-5-60
Audio clip: Adobe Flash Player (version 9 or above) is required to play this audio clip. Download the latest version here. You also need to have JavaScript enabled in your browser.
For their first live gigs in seventeen years (!) the Long Ryders knew the pressure was on. But they kicked ass and took names and you can hear the results on this stellar recording from their London gig. Cut on a hot summer night the sold out venue turned punters away and the result was a classic live album which can be filed next to Get Your Ya-Ya's Out, Live At The Apollo or Kick Out The Jams. Featuring the classic lineup of ex-Jayhawk Stephen McCarthy, Indiana state senator Tom Stevens, publishing mogul Greg Sowders and Dylan author Sid Griffin.
---
SID020 – Turn The Water On, Boy! – The Coal Porters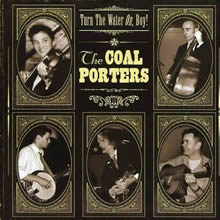 Final Wild Son/Mr. Guthrie/The Sound Of Life/Adam & Evil/Behind My Eyes/Silver Raven/Tea & Tobacco/Butterfly Hearts/These Four Walls/Here In The Dock/Fox Ate My Shoe/A Light From The Mountains
Audio clip: Adobe Flash Player (version 9 or above) is required to play this audio clip. Download the latest version here. You also need to have JavaScript enabled in your browser.
The world now witnesses the birth of Alt-bluegrass! Featuring new songs from the Coal Porters and a startling cover of Gene Clark's Silver Raven the sales success of Turn The Water On, Boy! has shown the rave reviews it received in Uncut, Mojo, Word, Maverick and Q magazines were all quite correct. Featuring ex-Byrd Chris Hillman on mandolin and mixed to a sonic sheen by Ed Stasium (Ramones, Smithereens, Belinda Carlisle, Jeff Healey Band) this CD is a breakthrough in modern music as Sid & Co. continue to move forward artistically by reversing field. This is bluegrass for both traditionalists and the Clash fan on your block.
---
SID019 – No Ifs, Buts, Maybes – Billy Bremner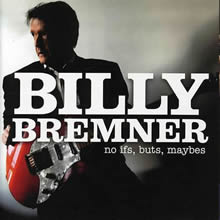 The Real Problem/Get A Job/Knocked Me Over With A Feather/What Is The Reason?/No If, But, Maybe/Where We Still Call Home/The Biggest Fool In Town/The Picture We Painted/I Can't Name Them All/Puttin' It In Reverse/They Don't Come Much Better/Only The Sound Of My Heart
Ex-Rockpile guitarist Billy Bremner has backed up everyone from bandmates Nick Lowe and Dave Edmunds to Paul McCartney, The Pretenders, The Pogues, Billy Connelly, The Rutles, Neil Innes and even Lulu & The Luuvers. On his third ever solo album and first in years the rock guitar swing king delivers his best yet, a set you bet you will never let outta 'yer sight you will love it so much!
---
SID018 – As Certain As Sunrise – Sid Griffin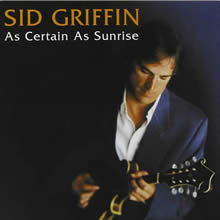 The Last Kentucky Waltz/You Tore Me Down/Lost In This World Without You/Alibi Bye/Evidence/Where Bluebirds Fly/Just Let Her Go/Wearing Out My Welcome With The Blues/Faithless Disciple/I Come And Stand At Every Door/Tell Me You Still Sing/Written Upon The Birth Of My Daughter
Audio clip: Adobe Flash Player (version 9 or above) is required to play this audio clip. Download the latest version here. You also need to have JavaScript enabled in your browser.
Sid Griffin's long awaited second solo album, his first in eight years and a surprisingly intimate glimpse into his private life. Released Sept 25, 2005 this is melodic acoustic alt-country at its finest although one track, Just Let Her Go, is a Western Electric reunion and not only features the powerful drums of Dave "the Cockney Cowboy" Morgan but is an unreleased song from the late Doug Sahm (Sir Douglas Quintet, Texas Tornadoes) which also features ex-Small Face Ian MacLagan on keyboards. Recorded in Sid's living room and in Louisville, Kentucky no other Sid music explains him better. Fact: this album has given Sid Griffin THE BEST REVIEWS IN HIS CAREER by far! (Though the Durango CD by the Coal Porters is gettin' some great ones at the time of this writing.)
---
SID017 – How Dark This Earth Will Shine – The Coal Porters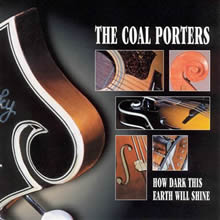 Fair Play, Virginia/Yonder Over Canaan/Morning Song/June Apple Breakdown/No Tongue Can Tell/Leaves On The Trees/Maybe I'll Cry Tomorrow/Idiot Wind/Teenage Kicks-Old Joe Clark/Polly/New Cut Road
Audio clip: Adobe Flash Player (version 9 or above) is required to play this audio clip. Download the latest version here. You also need to have JavaScript enabled in your browser.
How Dark This Earth Will Shine is the Coal Porters first studio acoustic bluegrass effort. Reviews of How Dark This Earth Will Shine were incredibly positive and you can read them elsewhere on this webpage. Know why the band got invited as one of only thirteen acts to showcase at the recent International Bluegrass Music Association's World of Bluegrass festival in Kentucky and hear how they could bring audiences to their feet every time. This CD features their latest single "Morning Song" which proved to be a great turntable hit. (Meaning it got a lot of airplay on the BBC, etc.)
---
SID016 – The Best of the Long Ryders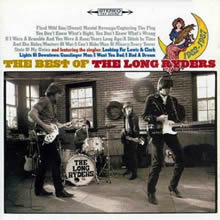 Looking For Lewis & Clark (long version)/Lights Of Downtown/Years Long Ago/Gunslinger Man/I Want You Bad/A Stitch In Time/Man Of Misery/If I Were A Bramble And You Were A Rose/Capturing The Flag (live)/State Of My Union/Final Wild Son/Ivory Tower/(Sweet) Mental Revenge/I Had A Dream/You Don't Know What's Right, You Don't Know What's Wrong/And She Rides/Masters Of War/I Can't Hide
The first ever single CD Long Ryders collection features tracks from their entire career and from every record label the band were on. Featuring liner notes from the rhythm section of Tom Stevens and Greg Sowders as well as Pete Frame's amazingly informative Long Ryders Family Tree it includes over a dozen previously unseen photographs of the band in their heyday. This is the one Long Ryders CD to have if you only want one and an excellent introduction to the Founding Fathers of alt-country. Now officially Prima Records best selling CD!
---
SID015 – Three Minute Warnings – The Long Ryders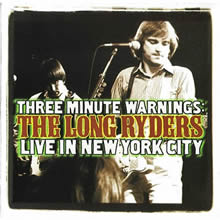 Prairie Fire/Lights Of Downtown/Man Of Misery/A Stitch In Time/State Of My Union/Harriet Tubman's Going To Carry Me Home/Capturing The Flag/Long Story Short/Baby's In Toyland/I Want You Bad/Spectacular Fall/I Had A Dream/You Just Can't Ride The Boxcars Anymore/Gunslinger Man/Looking For Lewis & Clark/Prisoners Of Rock/10-5-60
Audio clip: Adobe Flash Player (version 9 or above) is required to play this audio clip. Download the latest version here. You also need to have JavaScript enabled in your browser.
A great recording of the Long Ryders show at the Bottom Line in New York City on 7th May 1987 which was broadcast live on FM radio. A showcase for a rocking fine band, Sid's hair looks perfect on the front cover and the CD booklet has notes by the band's long time manager John Guarnieri. The CD features previously unseen photographs of the band in action. This is rock & roll which emphasises the "roll" part as much as the rock! This album is hotter than a pepperoni and jalapeno sandwich with horse radish.
---
SID014 – THANK YOU ST. JUDE – Peter Case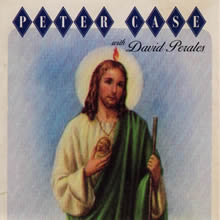 Ice Water/Beyond The Blues/Someday Blues/Put Down The Gun/Two Angels/Ginseng Blues/Hidden Love/Travellin' Light/Poor Old Tom/Leavin' Home/Entella Hotel/One More Mile/4th of July-Christmas Rag
Thank You St. Jude is Peter Case's heart-felt "thank you" to his fans. It contains new versions of old favorites, a new number, One More Mile and a rendition of Sleepy John Estes' Someday Blues. Case is ably assisted on this sparely arranged, emotionally gripping record by his longtime compatriot violinist David Perales. With luck Peter will grace Prima with another equally fantastic release in the near future. Please check out Western Electric's track When You Find Out on the fantastic Peter Case tribute CD A Case For Case!
---
SID013 – THE CHRIS HILLMAN TRIBUTE CONCERTS – The Coal Porters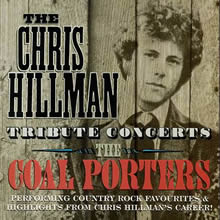 My Uncle/When The Ship Comes In/Summer Wind/Draft Morning/Older Guys/Time Between/Wheels/The Lost Highway/Sin City/Cody, Cody/Brand New Heartache/The Girl With No Name/I Am A Pilgrim/The Fallen Eagle/So You Want To Be A Rock And Roll Star?/You Ain't Goin' Nowhere
Audio clip: Adobe Flash Player (version 9 or above) is required to play this audio clip. Download the latest version here. You also need to have JavaScript enabled in your browser.
A classic tribute album to one of the key people in the development of folk-rock, psychedelia, long curly hairstyles on men, and country-rock. 16 great songs from various stages of Chris Hillman's career recorded live and in acoustic bluegrass style. Here is a review from the British newspaper The Observer on Sunday 5th August, 2000:
"In the country-rock hall of honour, Gram Parsons and Roger McGuinn get the acolades ahead of their collaborator, Chris Hillman. Here, London's own piece of living Americana, Sid Griffin, balances up the dues with loving cover versions Hillman favourites such as the Burrito Brothers' 'Older Guys' and the Byrds' 'Draft Morning', all delivered live in acoustic bluegrass mode. The clucking banjos and fiddle relocate the songs from rock to the country tradition – beautifully so in the case of 'Sin City', though it's debatable whether 'So You Want to Be a Rock and Roll Star' needed the rustic treatment."
---
SID012 – Dazzling Display (deluxe edition) – Steve Wynn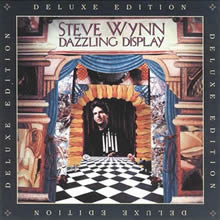 Drag/Tuesday/When She Comes Around/A Dazzling Display/Halo/Dandy In Disguise/Grace/As It Should Be/Bonnie And Clyde/405/Close Your Eyes/Light Of Hope – BONUS TRACKS: Kool Thing/Boy In The Bubble/Conspiracy Of The Heart/Watching The River Flow/Crazy Feeling/The Long Goodbye
Reissued in February 2000, this is a remastered and expanded edition of Steve's 1992 album. Included are six bonus tracks taken from radio sessions and live shows. Steve says this might be his favourite release of all his work. Sid's recent cover of "When She Comes Around" on the recent Steve Wynn tribute CD Man Of Mysteries originated because he so loved the original version of the song found here.  Now out of print.
---
SIDVID011 (VIDEO) The Gram Parsons Tribute Concert – The Coal Porters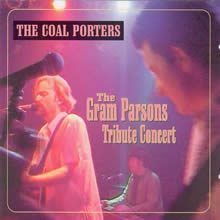 Luxury Liner/Hickory Wind/One Hundred Years From Now/Drug Store Truck Driving Man/(Sweet) Mental Revenge/Sin City/Return Of The Grievous Angel/Wheels/In My Hour Of Darkness/Older Guys/Hot Burrito #2/Six Days On The Road
Audio clip: Adobe Flash Player (version 9 or above) is required to play this audio clip. Download the latest version here. You also need to have JavaScript enabled in your browser.
Recorded live at The Garage in London on 19th September 1998 when The Coal Porters headlined a Gram Parsons tribute concert. Most tracks are either written by or co-written by Gram Parsons and all were performed by him during his solo career or with The Byrds or The Flying Burrito Bros. The video is now sold out. (Note: three of the Coal Porters on this disc are in Western Electric and the fourth, pedal steel guitarist Rob Childs, now works with comedian Rich Hall.)
---
SID010 The Gram Parsons Tribute Concert – The Coal Porters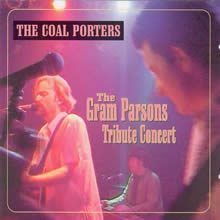 Luxury Liner/Hickory Wind/One Hundred Years From Now/Drug Store Truck Driving Man/(Sweet) Mental Revenge/Sin City/Return Of The Grievous Angel/Wheels/In My Hour Of Darkness/Older Guys/Hot Burrito #2/Six Days On The Road
Audio clip: Adobe Flash Player (version 9 or above) is required to play this audio clip. Download the latest version here. You also need to have JavaScript enabled in your browser.
A wild and memorable night was captured forever on tape at The Garage in London on 19th September 1998 when The Coal Porters headlined a Gram Parsons tribute concert in honour of the late founder of country-rock. This CD track listing is not the exact same as the video. Most tracks on this stellar CD are either written by or co-written by Gram Parsons and all were performed by him during his solo career with the iconic Emmylou Harris or with The Byrds or his ground-breaking The Flying Burrito Bros. This CD contains 12 rockin' performances, has a hidden track as well… not much of a secret track now you have read this…and dig this: three of the Coal Porters on this disc were also members of Western Electric and the fourth, pedal steel guitarist Rob Childs, now works with comedian Rich Hall. Oh, there is a guest appearance at the end of the concert by a guitarist now rather noted on the European country/indie scene!)
---
SID009 – Kerosene Man (deluxe edition) – Steve Wynn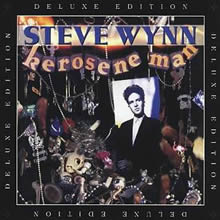 Tears Won't Help/Carolyn/The Blue Drifter/Younger/Under The Weather/Here On Earth As Well/Something To Remember Me By/Killing Time/Conspiracy Of The Heart/Kerosene Man/Anthem
BONUS TRACKS: Here On Earth As Well (demo)/Our Little House (demo)/Under The Weather (demo)/Mother Earth (demo)/Killing Time (demo)/Carolyn (demo)
Steve Wynn's first solo album, first released in 1990, has been reissued in a remastered deluxe edition with six bonus tracks. Steve has also thoughtfully added some new sleeve notes. It is a great album and among the many musicians featured are Sid Griffin and Stephen McCarthy. More details and a sample or two can be found on Steve's website. Now out of print.
---
SID008 – EP Roulette – The Coal Porters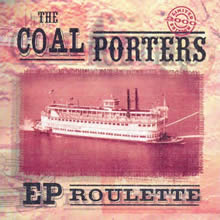 Everything/Emily In Ginger/Who'll Stop The Rain/Help Me (remastered)/Don't Fence Me In/Me Here At Your Door (live)
Audio clip: Adobe Flash Player (version 9 or above) is required to play this audio clip. Download the latest version here. You also need to have JavaScript enabled in your browser.
This limited edition six track CD EP contains two completely new songs; a new Coal Porter cover; a live version of Me Here At Your Door recorded direct to two-track at BBC Radio Scotland in Glasgow; a track previously only available on a Finnish John Fogerty tribute album; and a remastered version of a Los London favourite. Expect to pay no more than £4.99 for this disc in the shops, or £4 by mail order or four quid if you see Sid on the street. Previously unavailable in South Africa due to copyright restrictions. Currently unavailable in much of Afghanistan as the Taliban banned music.
---
SID007 – Little Victories – Sid Griffin
When I'm Out Walking With You/Jimmy Reed/Good Times Tomorrow, Hard Times Today/The Rate Of Exchange/I Wish I Was A Mountain/Distant Trains/Sailors And Soldiers/The Man Who Invented The Blues/Monk's Mood/Flak Jacket/Alma Mater/Jerusalem Road
Audio clip: Adobe Flash Player (version 9 or above) is required to play this audio clip. Download the latest version here. You also need to have JavaScript enabled in your browser.
Released in 1997 the UK and in 1998 in the USA by Country-Town Music this album is Sid Griffin "unplugged" with a collection of new material with the third track being an acoustic reworking of a Long Ryders classic. Recorded with a core band of Sid and UK C&W star Wes McGhee, it includes duets with Billy Bragg and Steve Wynn. The album also features an unreleased track from the late, great Phil Ochs entitled Sailors And Soldiers.
---
SID006 – The Lost Weekend – Danny & Dusty
The Word Is Out/Song For The Dreamers /Miracle Mile/Baby, We All Gotta Go Down/The King Of The Losers/Send Me A Postcard/Down To The Bone/Knockin' On Heaven's Door – BONUS TRACK: Bend In The Road
Originally issued in 1985, this was the debut release by "Danny & Dusty", a supergroup formed from Paisley Underground acts, fronted by Dan Stuart and Steve Wynn and featuring Sid Griffin, Stephen McCarthy, Tom Stevens, Chris Cacavas and Dennis Duck. The remastered CD includes a bonus track, Bend In The Road, taken from the Zippo/Demon Records compilation Don't Shoot, previously unseen photos by Amy McMillian and sleevenotes by Steve Wynn. Now out of print.
---
SID005 – Two Fisted Tales (deluxe edition) – The Long Ryders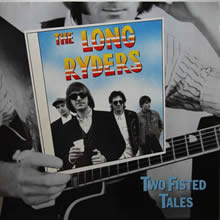 Gunslinger Man/I Want You Bad/A Stitch In Time/The Light Gets In The Way/Prairie Fire/Baby's In Toyland/ Long Story Short/Man Of Misery/Harriet Tubman's Gonna Carry Me Home/For The Rest Of My Days/Spectacular Fall – BONUS TRACKS: Ring Bells/State Of My Union(live)/Time Keeps Travelling/Baby We All Gotta Go Down(live)
Audio clip: Adobe Flash Player (version 9 or above) is required to play this audio clip. Download the latest version here. You also need to have JavaScript enabled in your browser.
A deluxe reissue of the Long Ryders' final studio album, remastered and containing four extra tracks. Two of the Long Ryders claim this was their best recorded work, period. The remodelled packaging includes terrific Greg Allen photos of the guys in their heyday and wonderfully evocative sleevenotes by drummer Greg Sowders, now a song publishing vice-president with Warner-Chappell in Los Angeles. Now out of print.
---
SID004 – Los London – The Coal Porters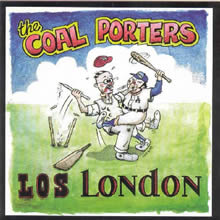 Me, Here At Your Door/Crackin' At The Seams/Chasing Rainbows/A Woman To Love/ Apple Tree/It Happened To Me/Santa Mira/After It's Broken/A Jacobite At Heart/Someone's Gonna Love You Too/Help Me/Ain't No Way I'll Be Your Cowboy
Audio clip: Adobe Flash Player (version 9 or above) is required to play this audio clip. Download the latest version here. You also need to have JavaScript enabled in your browser.
The second fab and groovy full length release from the Coal Porters, including ten Sid Griffin originals and a cover of a very rare Gram Parsons song, Apple Tree, previously recorded only by Johnny Rivers. Guest artists include Billy Bremner of Rockpile, John Bennett of the High Llamas and ex-Freddy Fender drummer Billy Block.
---
SID003 – State Of Our Union – The Long Ryders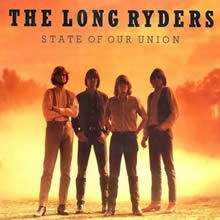 Looking for Lewis and Clark/ Lights of Downtown/WDIA/Mason-Dixon Line/ Here Comes That Train Again/Years Long Ago/Good Times Tomorrow, Hard Times Today/Two Kinds Of Love/You Just Can't Ride The Boxcars Anymore/Capturing The Flag/State Of My Union – BONUS TRACKS: If I Were a Bramble and You Were a Rose/Southside of the Story/Child Bride/Christmas in New Zealand
First ever appearance of the Long Ryders best selling album from 1985 on CD. Including the UK Top 40 hit Looking for Lewis and Clark, three non-album b-sides and the previously unreleased on CD Christmas in New Zealand! (This song was a fave of the late John Peel. True!) Remastered and featuring sleeve notes from Sid Griffin. Currently Prima is trying to get Universal UK to reissue this with unreleased material but don't hold your breath. Now out of print.
---
SID002 – Land of Hope and Crosby – The Coal Porters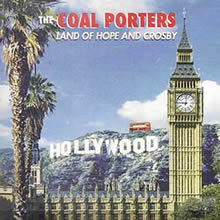 Imperial Beach/Death Like A Valentine/She Loved Me/What Am I Doin'(In This Thing Called Love)/How Did We Get This Far?/You Can See Them There/Windy City/Playing Dumb #1/ Everybody's Fault But Mine/What About Tomorrow?/All The Colors Of The World
Audio clip: Adobe Flash Player (version 9 or above) is required to play this audio clip. Download the latest version here. You also need to have JavaScript enabled in your browser.
First full length release from the Coal Porters. Features ex-Long Ryders Sid Griffin and Greg Sowders with lead guitarist Billy Bremner (ex-Rockpile), Chris Cacavas on keyboards (ex-Green On Red), drumming by Gringo Starr and a special appearance on woodwinds by Kate St. John of Dream Academy & Van Morrison fame. It was awarded 4 stars in Q and chosen by Brum Beat as one of the best albums of 1994.
---
SID001 – Metallic B.O. – The Long Ryders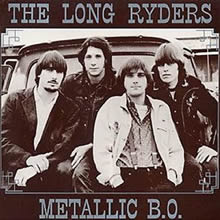 You're Gonna Miss Me/Route 66/Brand New Heartache/ Prisoners Of Rock'N'Roll/Dirty Old Town/Billy Jean/Circle 'Round The Sun/Six Days On The Road/Anarchy In The U.K./Masters Of War/Sandwich Man/Blues Theme/P.I.L. Theme/I Shall Be Released
Audio clip: Adobe Flash Player (version 9 or above) is required to play this audio clip. Download the latest version here. You also need to have JavaScript enabled in your browser.
A full 72 minutes of rare Ryders from live shows, radio broadcasts and studio outtakes. Fun-filled blistering rock'n'roll from the heart of the Paisley Underground, with extensive sleeve notes by Long Ryder fan club head Rick Gershon, this was praised by Rolling Stone in the USA when originally released on cassette back in 1988. Our warehouse chief Toad says there are no copies left and it is going for big money on eBay!
---
ALSO AVAILABLE FROM PRIMA RECORDS
MRCD199 – Western Electric – Western Electric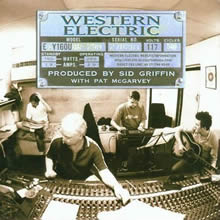 Theme From Western Electric/Emily In Ginger/10-4/When I'm Out Walking With You/The Power Of Glory/Faithless Disciple/Whirlwind/Love You Down/Carousel Days/Straight From The Heart
Audio clip: Adobe Flash Player (version 9 or above) is required to play this audio clip. Download the latest version here. You also need to have JavaScript enabled in your browser.
The eponymous debut album by Western Electric, in its European configuration. A very elegant combination of trip hop grooves and country soul and twang. Sid Griffin says this is his most accomplished, most fully realised music ever. Billboard magazine agreed in a glowing review…listen up and hear why. (A new Western Electric track appears on Sid's new solo CD, As Certain As Sunrise.)
---
RUB17/RUBV17 – REBELS WITHOUT APPLAUSE – The Coal Porters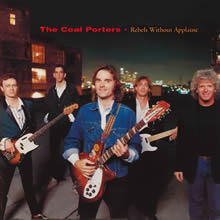 Roll Columbia Roll/I Tell Her All The Time/ The Light That Shines Within/Rhythm And Blue Angel/Stealin' Horses/Sittin' In An Isle Of Palms (live BBC rec)/Stuck On An Island/The John F. Kennedy Blues (live)/The March Of The Tapdancin' Rats
Audio clip: Adobe Flash Player (version 9 or above) is required to play this audio clip. Download the latest version here. You also need to have JavaScript enabled in your browser.
The first Coal Porters release, available as an Australian vinyl 12″ EP on Rubber Records containing the first five tracks only, or as a full length UK album on Utility Records. (Note: keyboardist Andy Kaulkin, second from left on front cover, is now the head of super hip record labels Anti and Epitaph Records in Los Angeles. Alas he has yet to offer Sid or the Coal Porters a record deal.)
---
Check out
Prima Records
on YouTube for videos and live footage including tracks from the above releases.
---
SID GRIFFIN STORE
Buy Prima Records in
The Sid Griffin store
.
---
DIGITAL DOWNLOADS
All Prima released product by
Sid Griffin
and
The Coal Porters
, plus some Long Ryders material, is available for digital download from a number of sources worldwide including
Amazon
and iTunes.
---
DISTRIBUTION

Prima Records can sell CDs to shops and dealers BUT any retailers wishing to stock Prima product should approach one of the following distributors:
•UK – Proper Music Distribution.
Contact: Ipek Foster / Website: propermusicgroup.com
Tel: +44 (0)20 8676 5180 / Email: ipek.foster@propermusicgroup.com
•USA – Burnside, Portland, Oregon
Website: bdcdistribution.com / Tel: (503) 231-0876
Email: frank@bdcdistribution.com
•Europe – Rough Trade Germany (Germany) / Email: roughmail@roughtrade.de
Rough Trade Benelux (Benelux) / Website: roughtrade.nl/
Self (Italy) / Email: venditaonline@self.it
Pop Stock!/Everlasting  (Spain) / Website: everlastingrecords.com