Biog – Discography – Press Photos – Live Reviews – Album Reviews – Lyrics/Chords
The Coal Porters are an exciting and dynamic bluegrass combo with a DYNAMITE LIVE ACT featuring;
Kerenza Peacock – fine fiddle and vocals;
Paul Fitzgerald – banjo and vocals;
Sid Griffin – vocals, mandolin, harmonica and autoharp;
Andrew Stafford – bass;
Neil Robert Herd – guitar and vocals.
The Coal Porters claim to be the world's first "alt-bluegrass" act, demonstrating the power of fiddle, mandolin, banjo, acoustic guitar and doghouse bass when matched with four-part harmonies and memorable melodies.
They have taken this sound around the world being featured on NPR's Morning Edition in the USA and having recorded a live session for Bob Harris on BBC Radio 2.
Click Here to read the full Biography…
The Coal Porters play Wheel Hoss/Salad Days
Video by Alex Barnes of Apple and Biscuit Recordings
---
"Sid Griffin and the Coal Porters, a proper band with albums and tours and a fiddle."
~ The Guardian, Laura Barton's Back Page column.
"Sid Griffin was playing Americana years before the term was invented and that pioneer spirit shines on with his current band, the Coal Porters." ~ Billy Bragg
"Not your average fish and chips bluegrass, the Coal Porters have expanded their music with broad strokes and fearless execution."
~ Chris Hillman (Byrds/Flying Burrito Bros/Desert Rose)
"Great harmony singing and memorable songs that often recall a British Flying Burrito Brothers or a back porch Ronnie Lane" ~ Mojo Magazine
"…the Coal Porters whisk together a hugely listenable cocktail of bluegrass, folk and country…" ~ Uncut Magazine
"Swell picking, sweet vocals, strong tunes…a bucketful of tradition" ~ Time Out
---
For England, Scotland, Ireland & Wales bookings, please contact Graham Smout at Strada Music – stradamusic.com/artist/the-coal-porters/
---


The Coal Porters proudly and exclusively use D'Addario strings and other products.
---
The Coal Porters – No. 6
The new album, No. 6, is produced by John Wood, the legendary British folk-rock mastermind who recorded the classic albums of Fairport Convention, Nick Drake, Beth Orton and Squeeze. No. 6 is a bit of a departure for the Coal Porters as it pushes their musical boundaries further than ever before.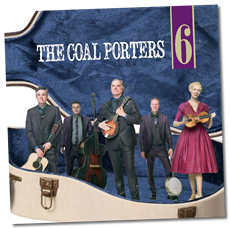 This album features Kerenza quadruple tracking herself into a string quartet, Andrew on a ukulele, Sid on trusty autoharp and mandolin, both Neil and Paul on dobro, a Byrdsy acoustic 12-string guitar, and very emotional, long, sweet trumpet solo by Cuba's noted "son y mambo" music virtuoso Eikel Venegas. There has never been music like this before. And already, the album's opening track, Sid's "The Day The Last Ramone Died," is being hailed as a classic (and a much viewed video on YouTube).
Recorded in two creative bursts in late 2014 and in 2015 this is the Coal Porters album which took three years to incubate. Four new Sid songs, three new Neil Bob Herd originals, and Kerenza Peacock contributed her first recorded lead vocal on a very personal song with Play A Tune while also gracing the record with a totally catchy instrumental, Chopping The Garlic. The album goes out on a high note with the band's warm-hearted cover of the Only Ones' classic hit Another Girl, Another Planet.
---