Biog – Discog – Press Photos – Live Reviews – Album Reviews – Lyrics/Chords
---
ALBUMS
SID027 – No. 6 – The Coal Porters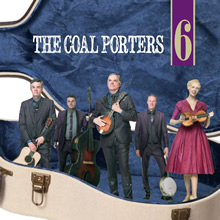 1) The Day the Last Ramone Died
2) Save Me from the Storm
3) The Blind Bartender
4) Chopping the Garlic
5) Salad Days
6) Unhappy Anywhere
7) Train No. 10-0-5
8) Play a Tune
9) The Old Style Prison Break
10) Another Girl, Another Planet
The Coal Porters latest album, No. 6, is again produced by John Wood, the legendary British folk-rock mastermind who recorded the classic albums of Fairport Convention, Nick Drake, Beth Orton and Squeeze. No. 6 is a bit of a departure for the Coal Porters as it pushes their musical boundaries further than ever before.
The album features Kerenza quadruple tracking herself into a string quartet, Andrew on a ukulele, Sid on trusty autoharp and mandolin, both Neil and Paul on dobro, a Byrdsy acoustic 12-string guitar, and very emotional, long, sweet trumpet solo by Cuba's noted "son y mambo" music virtuoso Eikel Venegas. There has never been music like this before. And already, the album's opening track, Sid's "The Day The Last Ramone Died," is being hailed as a classic (and a much viewed video on YouTube).
Four new Sid songs, three new Neil Bob Herd originals, and Kerenza Peacock contributed her first recorded lead vocal on a very personal song with Play A Tune while also gracing the record with a totally catchy instrumental, Chopping The Garlic. The album goes out on a high note with the band's warm-hearted cover of the Only Ones' classic hit Another Girl, Another Planet.
---
SID025 – Find The One – The Coal Porters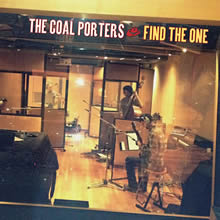 1) Barefoot on the Courthouse Lawn
2) Never Right His Wrong
3) Hush U Babe / Burnham Thorpe
4) The Betsey Trotwood
5) Heroes
6) Red-Eyed & Blue
7) Ask Me Again
8) Brand New Home
9) Gospel Shore
10) You Only Miss Her When She's Gone
11) Farmers' Hands
12) Paint It, Black
'Find The One' features (take deep breath) five new Sid Songs, an astonishing campfire cover of David Bowie's classic 'Heroes', a guest appearance by ex-Fairport Convention guitarist Richard Thompson as well as the first ever appearance of BBC radio legend Brian Matthew on an alt-country recording! To say nothing of a sitar and fiddle battle on the Rolling Stones' immortal Paint It, Black. Yes, a real sitar.
Produced by the legendary John Wood, the man who recorded Fairport Convention in their glory days and who produced Nick Drake, Squeeze and Beth Orton, 'Find The One' was recorded in north London earlier this year. It was mixed by Ed Stasium in Colorado USA, Ed being best known as Phil Spector's main engineer and for his work with the Ramones. Stasium mastered it too so it is the best sounding Coal Porters recording ever done.
---
SID023 – DURANGO – The Coal Porters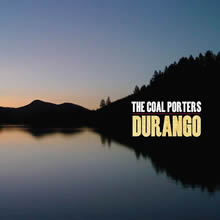 1) Let's Say Goodbye (Like We Said Hello)
2) No More Chains
3) Moonlight Midnight (feat. Peter Rowan)
4) I'm Not Going Away
5) One Is Way Too Many
6) The Squeaky Wheel Gets the Oil
7) Pretty Polly
8) Like a Hurricane
9) Permanent Twilight
10) Roadkill Breakdown (feat. Tim O'Brien)
11) Lookin' for a Soft Place to Fall
12) Closing Time Genius
13) Sail Away, Ladies!
Durango is a career-defining release from the ever popular Coal Porters who are taking their Bluegrass inspired oeuvre to even wider horizons. This enhanced CD includes a mini documentary by filmmaker Biki Kangwana about the band.
The album was produced by the legendary Ed Stasium, (Ramones, Phil Spector, The Smithereens, The Long Ryders, Gladys Knight, Mick Jagger, Belinda Carlisle, Jeff Healey) and recorded in Colorado USA April 2009 via the 'Basement Tapes' style with the musicians playing live and the band all looking at each other as they played…not a soul separated by glass or partitions.
Guest artists on the record are Peter Rowan, who sang and played guitar on his song "Moonlight Midnight", and Tim O'Brien who played mandolin on "Roadkill Breakdown".
---
SID020 – Turn The Water On, Boy! – The Coal Porters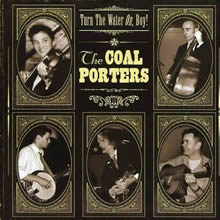 1) Final Wild Son
2) Mr Guthrie (Coal Porters, Chris Hillman)
3) The Sound of Life
4) Adam & Evil
5) Behind My Eyes
6) Silver Raven
7) Tea & Tobacco
8) Butterfly Hearts (Coal Porters, Esther Mae Griffin)
9) These Four Walls
10) Here In The Dock
11) Fox Ate My Shoe
12) A Light From the Mountains
The world now witnesses the birth of Alt-bluegrass! Featuring new songs from the Coal Porters and a startling cover of Gene Clark's Silver Raven the sales success of Turn The Water On, Boy! has shown the rave reviews it received in Uncut, Mojo, Word, Maverick and Q magazines were all quite correct. Featuring ex-Byrd Chris Hillman on mandolin on the second song, Sid's uptempo tune Mr. Guthrie (about Woody, you bet!) and mixed to a sonic sheen by Ed Stasium (Ramones, Smithereens, Belinda Carlisle, Jeff Healey Band) this CD is a breakthrough in modern music as Sid & Co. continue to move forward artistically by reversing field. This is bluegrass for both traditionalists and the Clash fan on your block.
To find out why Turn The Water On, Boy! is titled thusly, click *here*
---
SID017 – How Dark This Earth Will Shine – The Coal Porters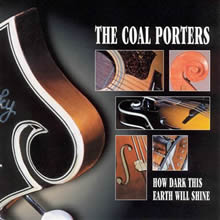 1) Fair Play, Virginia
2) Yonder Over Canaan
3) Morning Song
4) June Apple Breakdown
5) No Tongue Can Tell
6) Leaves On The Trees
7) Maybe I'll Cry Tomorrow
8) Idiot Wind
9) Teenage Kicks/Old Joe Clark
10) Polly
11) New Cut Road
When released this was the first new material from Sid Griffin since Western Electric in 2000 and it is the Coal Porters first studio acoustic bluegrass effort. Reviews of How Dark This Earth Will Shine were incredibly positive and you can read them elsewhere if you check out the reviews on this web site. Know why the band got invited as one of only thirteen acts to showcase at the October 2004 International Bluegrass Music Association's World of Bluegrass festival in Kentucky and hear how they could bring audiences to their feet (almost) every time. "Morning Song" was released as a single in March 2005 in the UK and received quite alot of airplay!
---
SID013 – The Chris Hillman Tribute Concerts – The Coal Porters
My Uncle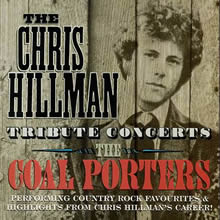 When The Ship Comes In
Summer Wind
Draft Morning
Older Guys
Time Between
Wheels
The Lost Highway
Sin City
Cody, Cody
Brand New Heartache
The Girl With No Name
I Am A Pilgrim
The Fallen Eagle
So You Want To Be A Rock And Roll Star?
You Ain't Goin' Nowhere
A fine tribute album to one of the most important people in the development of folk-rock and country-rock, Sid Griffin. Hang on, no, we mean Chris Hillman! 16 great songs from various stages of Chris Hillman's career recorded live in the acoustic bluegrass style. Here is a review from the British newspaper The Observer on Sunday 5th August, 2000:
"In the country-rock hall of honour, Gram Parsons and Roger McGuinn get the acolades ahead of their collaborator, Chris Hillman. Here, London's own piece of living Americana, Sid Griffin, balances up the dues with loving cover versions Hillman favourites such as the Burrito Brothers' 'Older Guys' and the Byrds' 'Draft Morning', all delivered live in acoustic bluegrass mode. The clucking banjos and fiddle relocate the songs from rock to the country tradition – beautifully so in the case of 'Sin City', though it's debatable whether 'So You Want to Be a Rock and Roll Star' needed the rustic treatment."
---
SID010 The Gram Parsons Tribute Concert – The Coal Porters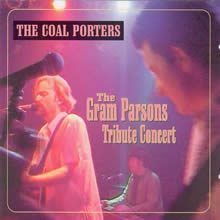 Luxury Liner
Hickory Wind
One Hundred Years From Now
Drug Store Truck Driving Man
(Sweet) Mental Revenge
Sin City
Return Of The Grievous Angel
Wheels
In My Hour Of Darkness
Older Guys
Hot Burrito #2
Six Days On The Road
A wild and memorable night was captured forever on tape at The Garage in London on 19th September 1998 when The Coal Porters headlined a Gram Parsons tribute concert in honour of the late founder of country-rock. Most tracks on this stellar CD are either written by or co-written by Gram Parsons and all were performed by him during his solo career with the iconic Emmylou Harris or with The Byrds or his ground-breaking The Flying Burrito Bros.
The CD contains 12 rockin' performances, has a hidden track as well… not much of a secret track now you have read this…and dig this: three of the Coal Porters on this disc were also members of Western Electric and the fourth, pedal steel guitarist Rob Childs, now works with comedian Rich Hall.
---
SID008 – EP Roulette – The Coal Porters
Everything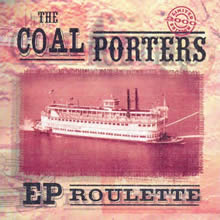 Emily In Ginger
Who'll Stop The Rain
Help Me (remastered)
Don't Fence Me In
Me Here At Your Door (live)
This limited edition six track CD EP contains two completely new songs; a new Cole Porter cover; a live version of Me Here At Your Door recorded direct to two-track at BBC Radio Scotland in Glasgow; a track previously only available on a Finnish John Fogerty tribute album; and a remastered version of a Los London favourite.
Expect to pay no more than £4.99 for this disc in the shops, or £4 by mail order. Unavailable in Zimbabwe due to copyright restrictions.
---
SID004 – Los London – The Coal Porters
Me, Here At Your Door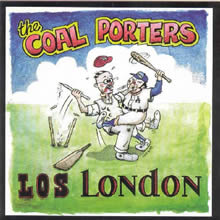 Crackin' At The Seams
Chasing Rainbows
A Woman To Love
Apple Tree
It Happened To Me
Santa Mira
After It's Broken
A Jacobite At Heart
Someone's Gonna Love You Too
Help Me
Ain't No Way I'll Be Your Cowboy
The second fab and groovy full length release from the Coal Porters from when they were still an electric act (before bluegrass intruded)  including ten Sid Griffin originals and a cover of a very rare Gram Parsons song, Apple Tree, previously recorded only by Johnny Rivers. Remember: this is electric rock & roll and not bluegrass! Guest artists include Billy Bremner of Rockpile, John Bennett of the High Llamas and ex-Freddy Fender drummer Gringo Starr.
---
SID002 – Land of Hope and Crosby – The Coal Porters
Imperial Beach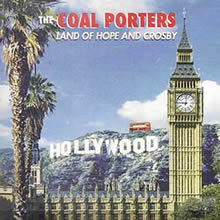 Death Like A Valentine
She Loved Me
What Am I Doin'(In This Thing Called Love)
How Did We Get This Far?
You Can See Them There
Windy City
Playing Dumb #1
Everybody's Fault But Mine
What About Tomorrow?
All The Colors Of The World
First full length release from the Coal Porters when they were an electric band. Features ex-Long Ryders Sid Griffin and Greg Sowders with lead guitarist Billy Bremner (ex-Rockpile), Chris Cacavas on keyboards (ex-Green On Red), drumming by Gringo Starr and a special appearance on woodwinds by Kate St. John of Dream Academy & Van Morrison fame. It was awarded 4 stars in Q and chosen by Brum Beat as one of the best albums of 1994.
---
RUB17/RUBV17 – Rebels Without Applause – The Coal Porters
Roll Columbia Roll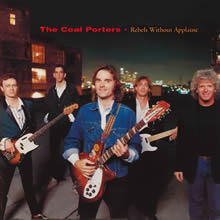 I Tell Her All The Time
The Light That Shines Within
Rhythm And Blue Angel
Stealin' Horses
Sittin' In An Isle Of Palms (live BBC rec)
Stuck On An Island
The John F. Kennedy Blues (live)
The March Of The Tapdancin' Rats
The first Coal Porters release, available as an Australian vinyl 12″ EP on Rubber Records containing the first five tracks only, or as a full length UK album on Utility Records. (Note: keyboardist Andy Kaulkin, second from left on front cover, is now the head of super hip record labels Anti and Epitaph Records in Los Angeles.)
---
APPEARANCES ON SINGLES AND COMPILATION ALBUMS
---
Listed in reverse chronological order:
A Light From The Mountains(Live) – The Coal Porters
A Swell Swoon A NBTMusicRadio Compilation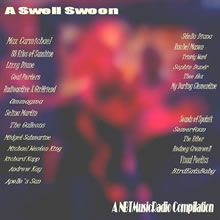 The Coal Porters feature on the first ever The NBTMusic Radio Station compilation album, with a Live recording of 'A Light From The Mountains'
"Featuring 25 bands and artists from 9 different countries and ranging in styles from Alt. Country Shoegaze, Electronica, Jazz, Indie, Hip Hop and so much more, this collection gives just a hint of our 24 hour/ 7days a week stream and the fiercely independent music we showcase.
All songs on this compilation have been donated with love by the performing artists.
All proceeds from this album will go towards the day to day running/maintenance and upkeep of the NBTMusicRadio the 'little international Indie Radio that could '
So by buying this album you are helping to keep NBT alive and continuing to reach listeners across the globe, sharing that beautiful virus that is independent music, from the past, present and (most importantly ) the future."
The Compilation can be found on Bandcamp.
---
Fallen Eagle – The Coal Porters


Music is Love: A Singer-songwriters' Tribute to the Music of Crosby, Stills, Nash & Young (RT61-2012003)
Music Is Love may be the most noteworthy compilation of 2012. Twenty-seven tracks written by Crosby, Stills, Nash or their friend Neil Young it is a charity record with the money going to fund a riding centre where urban low-income kids can ride and take care of horses…many of these youngsters never having seen a horse except on TV. So that most Californian of bands now has a tribute CD funding a very Californian cause.
The Coal Porters are the last track on the first CD. Offering up a live version of Stephen Stills' The Fallen Eagle off Stills' 1972 Manassas LP the Coal Porters do themselves, bluegrass and CSNY proud. Other artists on this fine release include Judy Collins, Elliott Murphy, Willie Nile, Cindy Lee Berryhill and Mary Lee's Corvette. Mojo Magazine had this to say about the release.
For more information visit musicislovetribute.com
---
Final Wild Son – The Coal Porters

Beginner's Guide To Hoedown (Nascente NSBOX075)
A three CD set (!) featuring the Coal Porters' fine bluegrass version of the Long Ryders' immortal Final Wild Son (off their Native Sons album). Beginner's Guide to Hoedown is, logically enough, broken down into three parts; the first CD is Old Time, square dance & mountain music, the second disc is Bluegrass & Beyond and the final disc is entitled 21st Century Hoedown. Which translates into a first disc featuring stalwarts and pioneers like Doc Watson, the Stanley Brothers, Hazel Dickens and Alice Gerrard, the second disc is relatively straight bluegrass be it legends like Bill Monroe or Flatt & Scruggs or relative newcomers like Bela Fleck or  the Hot Club of Cowtown, and the third CD is acts who have risen to some note these last few years such as, ahem, the Coal Porters, their dear friends the Water Tower Bucket Boys, Hayseed Dixie, and Chicken Shed Zeppelin.
Compiled by Joe Buirski and Joe "Hippy" Hymas from the Cut A Shine folk collective in London this could well be one of the influential releases of the year, a Harry Smith Anthology of Folk Music for the modern age! (and it makes a great Christmas present as it is reasonably priced)
http://www.cutashine.co.uk/  – Buy this CD set at Amazon

---
Let's Say Goodbye (Like We Said Hello) – The Coal Porters


 Bardenteffen 2011
Released in conjunction with the legendary German festival of the same name, held in Nurnberg July 29 to July 31, 2011,
The Coal Porters donated the studio version of the first track off their most recent release, Durango. The Bardenteffen 2011 compilation CD features a generous 22 acts, all of whom appeared at the festival alongside the Coal Porters. These talented and original acts were from all around the globe including not all Germany, the UK, Italy, Sweden but several acts from Africa, Asia and the Caribbean, which makes this wonderful release a fine sampler of modern world music.  www.strecker-medien.de
---
Something About England – The Coal Porters
The Sandinista! Project – Various Artists
2 CD set honoring the epic Clash release on
00:02:59 Records
– a label named after a lyric from the Sandinista! song "Hitsville U.K." – will release The Sandinista! Project as a two-CD set, with profits split between two charities – Amnesty International (heartily supported by The Clash) and the Joe Strummer Memorial Forest, which is a division of Future Forests, an organization fighting global warming.
In preparing the Herculean task of commissioning 36 songs to correlate with Sandinista!'s own 36, album producer Guterman called upon artists with whom he'd admired over his years as a journalist. Initial reactions were generally along the lines of "That's the craziest idea I've ever heard." The second reaction, following a brief pause, was "I want in."
Guterman received enthusiastic commitments from such artists as The Smithereens, Camper Van Beethoven, Jon Langford & Sally Timms, Amy Rigby, Katrina Leskanich (Waves), Sid Griffin & Coal Porters, Willie Nile, Matthew Ryan, Stew, Sex Clark Five and many more. Some recorded faithful tributes, other nearly dada-esque abstractions of the songs in question. And many boasted their own organic thread to the Clash, the song in question or both. For instance, Katrina Leskanich of Katrina & the Waves, seemed a natural for "Hitsville, U.K." After all, her hit, "Walking on Sunshine," shared the same bass line as "Hitsville U.K." which was borrowed from Motown's "You Can't Hurry Love." Jon Langford & Sally Timms from the Mekons took "Junco Partner," originally a James Booker new Orleans R&B hit, and returned it Stateside as only two British punk expatriates can. Sid Griffin, a native of Kentucky who has since migrated to the U.K., tackled "Something About England," a powerful ballad about British deterioration, and turned it into a bluegrass stomp.
---
Butterfly Hearts – The Coal Porters
Doing It For The Kids '08: A Compilation For Yorkhill Children's Foundation
The Coal Porters tune Butterfly Hearts is the second track on a two CD charity release entitled Doing It For The Kids '08: A Compilation For Yorkhill Children's Foundation.
To download a copy of this album go to: www.resonancestore.com/yorkhillproject
In order to buy a hard copy go to:
www.yorkhillchildrensfoundation.org
. The staff at Yorkhill work with seriously ill children. Please support their fine work if you possibly can.
---
Idiot Wind – The Coal Porters
Tracks Inspired By Bob Dylan (Uncut 2005 01-B)

An Uncut magazine fifteen track release entitled Tracks Inspired By Bob Dylan features The Coal Porters' version of Dylan's Blood On The Tracks classic and was taken from the Coal Porters' album How Dark This Earth Will Shine. Available to British consumers who purchased Uncut in December 2004 this is one of two Dylan-themed CDs Uncut attached to the then current issue, the other being Tracks Which Influenced Bob Dylan. However only Tracks Inspired By Bob Dylan has any Coal Porters involvement although Sid's friends Billy Bragg and Robyn Hitchcock are found on it as well.
---
Older Guys – The Coal Porters
Grand Theft Parsons: Music From & Inspired by the Motion Picture
Cube Soundtracks FlyCub20106

"While the film is a disappointment, giving a very distorted version of the events of Gram's body being stolen by Phil Kaufman, the soundtrack to Grand Theft Parsons is a joy. And while the Coal Porters version of "Older Guys" was neither in the movie nor inspired by it (being recorded several years earlier) nonetheless it sound great in such august company; an uptempo, vibrant version of a great song. Also on the soundtrack are Starsailor, R&B great Eddie Floyd, Primal Scream, Gillian Welch, Wilco, Rory Gallagher, Evan Dando, the Flying Burrito Brothers and yes, Gram too." Eddie Ashworth in Cinematic & Arts Review  
---

I Am A Pilgrim – The Coal Porters
Eight Miles High: 19 Tracks Inspired by The Byrds, Uncut 2003 08
A collection of 19 tracks inspired by The Byrds and featuring I Am A Pilgrim originally found on The Chris Hillman Tribute Concerts. Other artists include Roger McGuinn with Crowded House, the Cosmic Rough Riders and Blue Oyster Cult.
---
Take My Name – The Coal Porters

The Bam Balam Explosion Vol. VI,
Bam Balam Records
BBR008
An exclusive release of a new recording of a great song co-written by Sid Griffin and Greg Trooper on this Spanish compilation of 23 rocking pop tracks by bands based all over Europe. Well worth hunting down…get on eBay now!
---
The Rate Of Exchange – The Coal Porters
Edges From The Postcard 3, Hayden's Ferry Records 99042
A full-on rocking electric band version of this song which was first featured acoustically on Little Victories is

included on this compilation of alt-country styled acts spawned by the Postcard 2 internet mailing list to coincide with Twangfest '99. As rockin' a track as Sid has ever recorded and now their ex-bass player, a convicted felon, informs us Prima sent the wrong mix in of the track and that the best version is still in the Prima vaults!
---
Ohio – The Coal Porters
This Note's For You Too!, Inbetweens Records IRCD004 (2CD)

A full-on rocking electric band version of this song which was first featured acoustically on Little Victories is included on this compilation of alt-country styled acts spawned by the Postcard 2 internet mailing list to coincide with Twangfest '99. As rockin' a track as Sid has ever recorded and now their ex-bass player, a convicted felon serving time, informs us Prima sent the wrong mix in of the track and that the best version is still in the Prima vaults!
---
Ohio – The Coal Porters
This Note's For You Too!, Inbetweens Records IRCD004 (2CD)
First released on cassette only, Ohio is also included on this 37 track 2CD Neil Young tribute compiled by Jos Starmans of Neil Young's Dutch fan club and released in April 1999. Only available via eBay or if you know Jos personally. (Which some of us do.)
---

Six Days On The Road – The Coal Porters
Cowpunks, Vinyl Junkie VJCD002 (CD)(also available as 2 x LP)
This is a 24 track CD or 25 track double vinyl compilation of modern rocking country acts. Other featured artists include The V-Roys, Chris Cacavas, The Beat Farmers and Mojo Nixon and Jello Biafra.
Full details can be found at the Vinyl Junkie web site. The Coal Porters track is unavailable elsewhere (thank God too, as Sid doesn't like this version very much).
---

Roll Columbia Roll – The Coal Porters
Get Weaving Volume 3 – Country and Americana
Weaving Records GWCD 006 (CD)
The Rebels Without Applause track is included on this compilation of acts who have appeared at the now defunct "The Weavers" pub in North London and fit into the category of rootsy country Americana.
Eighteen artists are featured, including Wes McGhee, Cathryn Craig, John Stewart and Katy Moffat.
---

Who'll Stop The Rain – The Coal Porters
John Fogerty: Wrote a Song for Everyone, Rubber Rabbit Rock'N'Roll Records 5R00196 (CD)
A version of the Creedance Clearwater Revival hit contributed to this John Fogerty tribute album compiled by Rubber Rabbit Rock'n'Roll Records from Finland. (Bizarrely, Sid has a huge following in Finland, much bigger than Fogerty's or CCR. Or God's.)
This track is now also available on the Coal Porters' EP Roulette.
---

The Light That Shines Within – The Coal Porters
Sunday Morning Sessions, Munich Records MRCD 176 (CD)
An acoustic version performed live on Dutch radio December 11, 1994 by Sid and John Bennett. John went on to the High Llamas before retiring to run a computer repair shop in Essex with an elderly Scotsman.
Why,  John, why? Only available here.
---
Ohio – The Coal Porters
Neil Young Under Cover
A Neil Young cover contributed to a covers cassette compiled by the Dutch Neil Young fan club. Also features Prisoners Of Rock'n'Roll by the Long Ryders (taken from Metallic B.O.) and Walk On by Gutterball, who included ex-Long Ryder Stephen McCarthy. This track was later released on a CD compilation so look at the release five CDs above this one on this very page. Or look for Jos Starman in The Netherlands.
---

November Nights – The Coal Porters
Conmemorativo – A Tribute To Gram Parsons, Rhino Records R2 71269 (US)
Cylops/Polygram (Europe) (CD)
A version of a rarely heard Gram Parsons song contributed to this tribute album, released in 1993. The album also features Stephen McCarthy's very fine One Hundred Years From Now. Only available via eBay it seems but it is worth noting Rolling Stone in the States made special mention of this track in their review of the album.
---

Hot Child In The City – The Coal Porters
20 More Explosive Fantastic Rockin' Mega Smash Hit Explosions! Pravda Records PR6342 (CD)
20 Supersonic Mega Exposive Hits!, Runt Records RUNT04 (CD)
A version of the Nick Gilder song, contributed to an album of 70s covers compiled by Pravda Records of Chicago. Nick Gilder…a nice guy Sid used to see in L.A. in the late 1970s all the time at The Starwood when the late Michele Myer would let him in for free. Happy days, they were indeed! Found on: 20 More Explosive Fantastic Rockin' Mega Smash Hit Explosions!, Pravda Records PR6342 (CD) Also included on 20 Supersonic Mega Exposive Hits!, Runt Records RUNT04 (CD) An Italian compilation of tracks from Pravda Records' K-Tel style collections. The Coal Porters' Nick Gilder cover is on it.
---

Crackin' At The Seams – The Coal Porters
A Town South Of Bakersfield Vol.3, Restless Records 72592-2(CD)
The first appearance of this track, later overdubbed and remixed for Los London, on this collection of bands from the Los Angeles area. This early version is only available herein. A fine CD it is! That is NOT Sid's Mom & Dad on the CD cover.
---

I Tell Her All The Time – The Coal Porters
Death Valley 92328, Big O CD9304 (CD)
The same version as appears on Rebels Without Applause found here on a CD given free with BigO magazine, which is based in Singapore, in 1993.
---
Sittin' In An Isle Of Palms – The Coal Porters
A studio version of the track from Rebels, given free with issue 12 of a German magazine called Howl.

Watching Bluegrass Burn – The Coal Porters
A single given free with the double issue 39/40 of Bucketful Of Brains in March 1992. The other side of this record features REM performing a cover of Mission Of Burma's Academy Fight Song. Apparently this 7″ vinyl single did over ten thousand copies! Sid's friends called this photo of him "the 1972 David Cassidy look".
---
All The Arms We Need – The Coal Porters

APP005 (7′ single)
Free single with issue 13 of Lemon magazine of Australia in 1992.