Discography – Press Photos – Music Reviews – Book Reviews – Lyrics/Chords
"I'm the guy from the Long Ryders in 1980s L.A. & the guy in the Coal Porters in London now. Yes, I also make solo albums and do some singer-songwriter gigs. Million Dollar Bash is my book on The Basement Tapes and I've never met Dylan." – Sid Griffin
"His intimate acoustic shows are consistently memorable" – The Sunday Times
---
Biography
Sid Griffin displays many chapeaux in his career as a multi-faceted musician, proud author, knowledgeable broadcaster and professional golfer. Or is that professional go-fer? Okay, only the first three hats get anywhere near his noggin, but they all fit snugly. He is also a proud parent and part time journalist as well as a man who makes excellent cheese mushroom omelettes.
An eighth-generation native Kentuckian who currently resides in England, Sid has popped up in literary circles due to the success of his Million Dollar Bash book on Bob Dylan's Basement Tapes as well as the follow up Shelter From The Storm. He has also appeared in music circles due to his bluegrass band the Coal Porters enjoying success after success with their new CD, No. 6. and to his many media appearances, be they via print media or the airwaves. In 2006 ABC's The Jimmy Kimmel Show had their house band play Sid's song Jimmy Reed as they went to commercial…our hero was watching that eve and fell off the sofa when he heard the familiar melody struck up. In addition to falling off furniture Griffin has already won a Lifetime Achievement Award in Italy in 2003 (Piero Ciampi Award), and Sid's old band the Long Ryders, the legendary founders of alt-country, are occasionally found touring.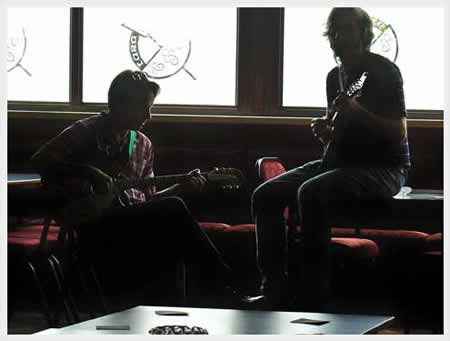 Sid appears as Resident Musicologist on BBC Radio 6 Music DJs Stuart Maconie and Mark Radcliffe's excellent afternoon show and this brought Sid to an entirely new demographic. Frequently heard on late night BBC Radio, Griffin's silver-toned vocal chords were heard extensively when the BBC broadcast Mark Lamarr's four-part series Redneck Music in early 2008. (Griffin was not the redneck in question.)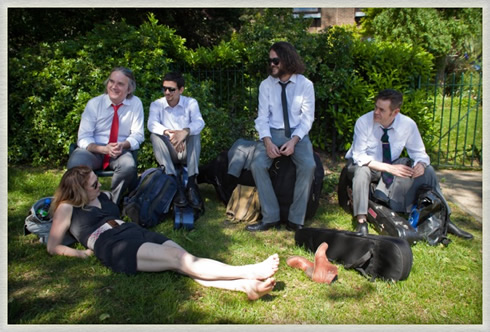 As a musician, Griffin continues to perform on bluegrass mandolin with his acoustic Coal Porters ensemble. The Coal Porters have played festivals in many places around the world including Glastonbury in the UK, Kilkenny Festival in Ireland and the World Of Bluegrass festival in Kentucky USA. He looks forward the future as his old rock band The Long Ryders sometimes perform again. The Long Ryders box set Final Wild Songs was released in January 2016 to universal acclaim, creating a new demand for live concerts by the band.
And yes, in between all of this activity Sid Griffin still performs the occasional, and very special, solo troubadour show. Lately his solo appearances are in support of his 2015 solo album The Trick Is To Breathe, which earned Griffin four and five star reviews globally. In 2018 Sid is performing solo in Spain, Italy, the UK, Scandinavia and his native United States.
The DVD release on Warner Bros/Rhino of the BBC TV special which Griffin co-wrote and researched entitled Gram Parsons, Fallen Angel has proven to be a great success as was his book Bluegrass Guitar: Know The Players, Play The Music. (Backbeat, UK) Sid of course has two books on Bob Dylan; one one The Basement Tapes called Million Dollar Bash, and the other on the Rolling Thunder Revue era Bob called Shelter From The Storm. Both are published in the USA and UK by Jawbone.
Griffin believes global warming is our greatest challenge and recycles while striving to reduce his own carbon footprint.
As a documentary scriptwriter for BBC Radio Two, Sid Griffin had two of his scripts broadcast in 2006, the first on Gram Parsons and the second on the Carter Family, this latter narrated by Dolly Parton. Sid is starting to write a new book in early 2018 and word has it this will be his final book on Bob Dylan.
As a freelance journalist Griffin is a regular contributor to Mojo, Fritz Lang Review, Gaslight, Rock 'n' Reel, Baseball Maniac, Skyway and Country Music International. He has been published in The Guardian, Music Week, Variety, Cash Box, New Musical Express, the L.A. Weekly, BAM and Melody Maker. Sid was a regular contributor to Q magazine as well.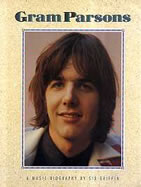 An acknowledged expert on the musical career of Gram Parsons, Sid's first book Gram Parsons – A Music Biography (Sierra Books) is still in print and it would be nice if the publisher paid him his royalties one day. He has contributed sleeve notes to a great many CD reissues by Gram Parsons and The Flying Burrito Bros, The Byrds and Gene Clark. Sid has also compiled and written sleeve notes for reissues by Long John Baldry, Mike Nesmith, Arthur Lee's Love, Joe Ely, Dolly Parton, the International Submarine Band, Steve Young, Tim Hardin, The Everly Brothers, Phil Ochs, Iggy Pop, Nils Lofgren, his heroes Bill Monroe & the Bluegrass Boys, his friend the late Ronnie Lane, Hank Williams, Glen Campbell and for various compilations including Beating Up The Campus, Fallen Angels: An Alt-Country Sampler and Okay, So We Lost: Songs Of The Confederacy, Vol. Five.
Further to all this Sid has his very own musical Podcast 'Call All Coal Porters' which is availible on iTunes as well as on his own website at SidGriffin.com
Prima Records has compiled, archived and reissued seven albums of Sid's 1980's band, The Long Ryders. The fifth of these reissues was the first "new" Long Ryders material in sixteen years with the well-received album, Three Minute Warnings: Live In New York City.
A sixth CD was released in October 2007, Live 2004: State Of Our Reunion and a seventh, an expanded Native Sons with extra tracks, appeared to loud huzzahs in January 2011. At present there are no further Long Ryder reissues planned.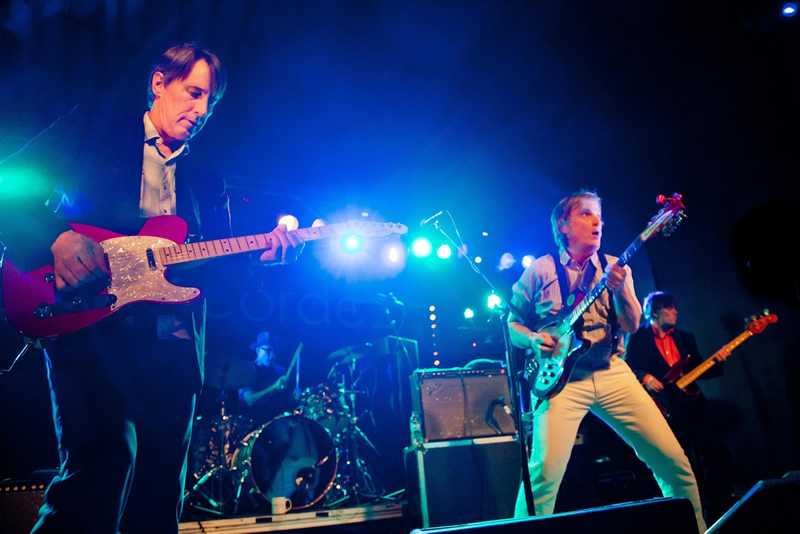 The Long Ryders reformed for live concerts in 2004, 2009, 2014 and twice in 2016 and the band hope to record some new songs for a new album! So watch this space for a major announcement as regards new Long Ryders studio tracks.
The Coal Porters, Sid's new band, continue to perform live and release albums via Prima Records with their latest being 2016's No. 6, their well-received sixth studio album.
---
The Trick Is To Breathe is Sid Griffin's first solo album in a decade. Recorded in Nashville, Tennessee at the home studio of Thomm Lutz in February 2014 it was a joyous, easy and (almost) carefree session, the entire album completed in four days.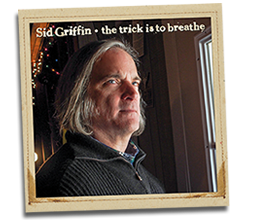 "Before Christmas I had sent some Nashville friends acoustic demos of my songs and of my new arrangement of a version of The Youngbloods' great Get Together. These men and women had learned the songs off my demos and most of the songs we recorded were second takes…in fact these players are so accomplished I don't think any track was recorded in more than four takes," recalls Griffin.
After recording in the UK for most of the past two decades it Sid decided to do everything differently from his last solo album, As Certain As Sunrise. "I recorded in the USA instead of Europe, I did not engineer, co-produce, or mix the album, on a few tracks I only sang, I put myself entirely in the hands of others, I did not use any of the Coal Porters' vast musical talents, I primarily used musicians I had not met before the sessions and I enjoyed myself thoroughly. Without question it was time for a change, time to shake things up."
As promoters and venues were frequently contacting Griffin about solo shows it was obviously time for new Sid Solo Music. Yet the multi-tasking Griffin, a musician first, a writer second, a broadcaster third and…oh yes, a family man on top of all that, didn't have much time to spare to record. "You can spend weeks doing an album. Both my previous solo albums were done piecemeal, that is recorded in bits here and then bits there over weeks. I needed to get an album done quickly."
"Billy Bragg told me his last album was recorded by Joe Henry in just a few days out in Pasadena, California and I remembered Dylan did Nashville Skyline in only a few days. So I contacted some Nashville cats I knew, they recommended Thomm Jutz as a producer, he and I hit it off, Thom picked most of the players and by the time I flew to Tennessee these folks knew my songs better than I did. Hence we started on Monday and were done by Thursday!"
Sid did play mandolin on two tracks, guitar on about six more, but the core of the band was Mark Fain from Ricky Skagg's Kentucky Thunder outfit on bass, the great virtuoso Sierra Hull on mandolin, Paul Griffiths on drums, Thomm Jutz on guitar, Justin Moses on banjo, fiddle and dobro, and gospel legend James T. Brown on backing vocals. Other than Thomm Jutz and Paul Griffiths none had met Sid before the sessions began.
The Trick Is To Breathe announces Sid Griffin is back on the world stage as a solo artist, globe-trotting troubadour and singer-songwriter. "It's a great record, it really is, my best songs ever and you can play them with a group behind you as I did in Nashville or they can be performed by me solo.
.
I am in a good space as the saying goes and The Trick Is To Breathe is going to help keep me there. Yes, I am an American who lives in Europe but my heart resides south of the Mason-Dixon and it shows on this album. I can't wait to tread the boards again and play these songs for the people."
---

Latest News:
● Latest Sid Griffin News is here or sign up for the Sid Griffin Newsletter.
● Sid Griffin now scheduling solo troubadour shows.
---

Sid Griffin proudly uses Pickboy Picks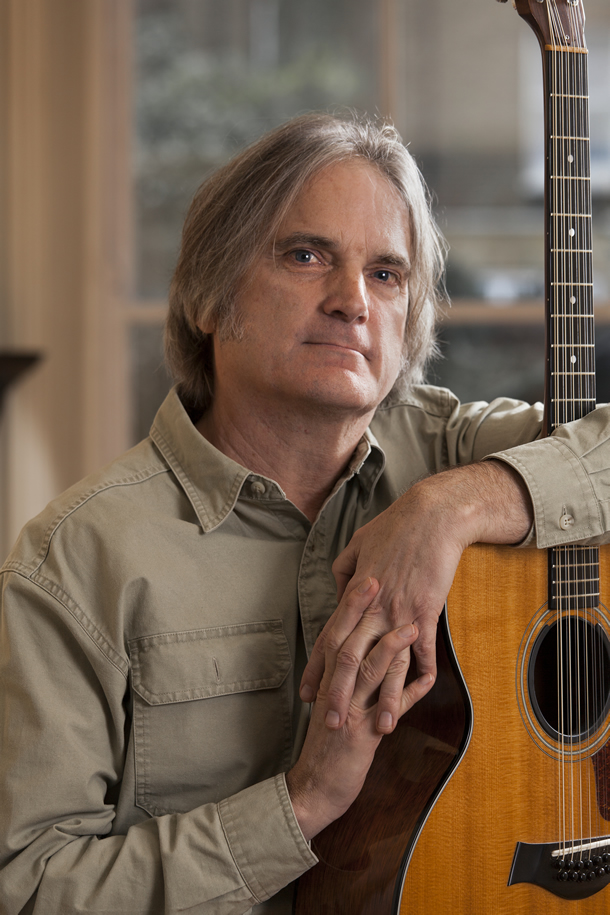 ---