Biog – Discog – Press Photos – Live Reviews – Album Reviews – Lyrics/Chords
A Short Biography*
The Coal Porters claim to be the world's first "alt-bluegrass" act, demonstrating the power of fiddle, mandolin, banjo, acoustic guitar and doghouse bass when matched with four-part harmonies and memorable melodies. They have taken this sound around the world being featured on NPR's Morning Edition in the USA and having recorded a live session for Bob Harris on BBC Radio 2.
The Coal Porters have six albums available. Their most recent, No.6, produced by folk-rock legend John Wood, producer of Fairport Convention, Nick Drake, Squeeze and Beth Orton.
*A Short Biography suitable booklets and ticket sites. For a slightly longer Biography, suitable for press enquiries, please click here.
"Not your average fish & chips bluegrass, the Coal Porters have expanded their music with broad strokes and fearless execution."
Chris Hillman (Byrds/Flying Burrito Bros)
"Sid Griffin was playing Americana long before it was called that with his Long Ryders and his pioneering spirit lives on in his work with the Coal Porters."
Billy Bragg
---
The Entire History Of The Coal Porters
Formed in Los Angeles during the last century, as so many things were, the Coal Porters were originally an electric act centred around ex-Long Ryder Sid Griffin, composer of the Long Ryders 1985 hit single "Looking For Lewis And Clark".
After the band relocated from Los Angeles to London Griffin sallied forth renewed in spirit. In 1998 he produced Lindisfarne's Here Comes The Neighborhood album and upon completion of that album, Lindisfarne so inspired Griffin he purchased a mandolin. With Griffin on Bill Monroe styled mandolin, the Paul Fitzgerald on five string banjo, Neil Robert Herd on flatpickin' guitar, Andrew Stafford on bass and fiddler Kerenza Peacock sawin' away on the strings the acoustic Coal Porters were born. And bluegrass music found itself birthing a hip, sub-genre: Alt-bluegrass.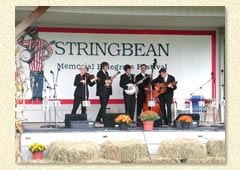 With several European bluegrass tours under their belt, the Coal Porters released The Chris Hillman Tribute Concerts in 2001, an acoustic exploration of Byrds, Burritos, Gram Parsons and Bob Dylan. Rave reviews piled in from America's Bluegrass News, Britain's Sing Out!, British Bluegrass News, Q, Mojo, Making Music, Folk Roots and many more.
Soon the CPs found themselves opening for Chris Hillman & Herb Peterson in London and completing two exhausting US tours. In October 2004 they performed a extremely well-received showcase at the International Bluegrass Music Association's prestigious World Of Bluegrass Festival in Louisville, Kentucky and the band found themselves swamped by both demands from the press and media and the rigors of the road.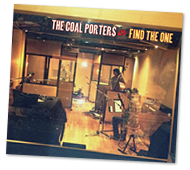 September 2004 saw the release of the first Coal Porters acoustic studio album, entitled How Dark This Earth Will Shine, and March 2008 saw the release of their second acoustic studio effort, Turn The Water On, Boy! In March 2010 the world rocked out to Durango, the first Coal Porters album to crack the USA's Americana Chart's Top Forty!
September 2012 was the date Find The One, the Coal Porters most accomplished release by far. Produced by British folk-rock legend John Wood (Fairport Convention, Nick Drake, Squeeze, Beth Orton, John Cale) Find The One was so dynamic the band were invited to appear on NPR's Weekend Edition in the USA (!) and to do a live session for no less than the legendary Whispering Bob Harris on BBC Radio 2!
2016 saw the release of their latest album, No. 6, produced again by John Wood. No. 6 pushes the bands musical boundaries further than ever before featuring Kerenza quadruple tracking herself into a string quartet, Andrew on a ukulele, Sid on trusty autoharp and mandolin, both Neil and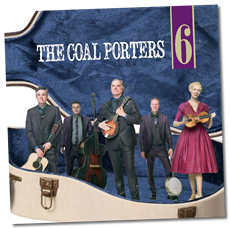 Paul on dobro, a Byrdsy acoustic 12-string guitar, and very emotional, long, sweet trumpet solo by Cuba's noted "son y mambo" music virtuoso Eikel Venegas.
There has never been music like this before. And already, the album's opening track, Sid's "The Day The Last Ramone Died," is being hailed as a classic (and a much viewed video on YouTube). No. 6 was found on many year-end lists and Griffin now refers to it as his finest work.
Firmly established on the UK and European touring circuits and possessors of their own sound the Coal Porters are an acoustic act with attitude. Their live show is polished yet passionate and second to none.
Watch The Coal Porters play live on the media page – Check 'em out! Smokin!
Click Here for the full Coal Porters Discography and you could also follow The Coal Porters on Facebook and YouTube.