Find The One
Find The One is the Coal Porters' fifth and most accomplished album since they unplugged, forgot about the electricity bill and prepared for global warming by morphing into an entirely acoustic act.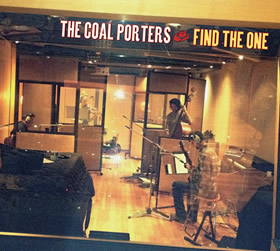 Produced by British folk-rock legend John Wood, the man behind the early classic LPs by Fairport Convention, Nick Drake, and later on recording both Squeeze and Beth Orton, Find The One features five fine Sid Griffin songs and a trio from Scottish guitarist Neil Robert Herd.
The CD of Find The One even includes a seven minute documentary film encoded on it, playable on any computer. The film is by Toby Cameron and Richard Crandon of On-Par Productions and dynamically illustrates everything warm, musical, funny and human about the band within its short seven minute span.
No Coal Porters album can exist without a nod to the greats who have so inspired Sid Griffin and his merry cohorts and Find The One is no exception. Sid's harrowing tale of a slave family's escape on the Underground Railroad, Hush U Babe, features the astonishing guitar of ex-Fairport Convention guitar guru Richard Thompson (!) and listeners will also hear a formal DJ introduction of Sid's love ballad Ask Me Again by the BBC's legendary Brian Matthew, not only a man who knew The Beatles on a first name basis back in the day but whose Saturday Radio 2 show is the Beeb's most popular show today. Now that is a career!
listen to samples from Find The One here;
Audio clip: Adobe Flash Player (version 9 or above) is required to play this audio clip. Download the latest version here. You also need to have JavaScript enabled in your browser.
Buy it now:
£9 including P&P (UK customers) £10 including P&P (Rest of world)
You can also buy Find The One now via amazon.co.uk or amazon.com you can also now download all Coal Porters releases on iTunes