In the course of the last fifteen years Sid has appeared as a pundit not only on radio and in print but on the small screen. His erudite talking head comments have been seen on breakfast TV in both the USA and the UK and Sid has made a number of commercially available DVDs. Sometimes these DVDs are part of a CD box set collection, sometimes they are stand alone DVD documentaries. A partial list is seen below
---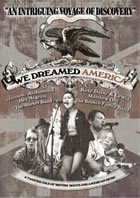 We Dreamed America
(Brickwall Films, PAL DVD001, 2008)
Buy the DVD Here
We Dreamed America is a twisted tale of British roots and American music. DVD will feature nearly 2 hours of additional footage including music videos.
Live performance and interviews with Guy Clark, Bob Harris and Little Feat.
---
The Definitive Leadbelly
(Properbox 148, 2009) 4CD+DVD Box set
Buy the DVD Here

"Definitive" is a mighty claim when it comes to an artist of Leadbelly's stature, but the three-disc DEFINITIVE LEADBELLY box lives up to its title.
Over the course of its 75 tracks, this collection hits all the sweet spots in the seminal folk/blues trailblazer's sprawling catalog, from staples like "C.C. Rider", "Goodnight Irene", and "Good Morning Blues",to lesser-known tunes, all mastered with excellent sound quality for recordings that date back to the pre-war era.
---
The Roots Of Led Zeppelin
(Properbox 149, 2009) 4CD+DVD Box set

"It's 40 years since Led Zeppelin exploded onto the music scene and changed the landscape forever. Their music was a blend of all that was great and exciting that had come before them and this set covers the whole spectrum from blues to country to rock 'n' roll and r & b."
Three discs of rock, blues and folk material which influenced Led Zep and a fourth CD where Sid and Charles Shaar Murray explain why these influences manifest themselves so strongly in the arena rock of this iconic British band.
---
The Roots Of Bob Dylan
(Properbox 150, 2009) 4CD+DVD Box set
Buy the DVD Here
Bob Dylan, along with The Beatles and The Rolling Stones, completely revolutionised music in the 1960's ushering in a new era of artistic expression that has paved the way for everything that has followed in Pop and Rock music. Dylan not only represented the future of music in the sixties but was also a standard bearer for all of the great American musical genres that had preceded his arrival on the scene.
Throughout his career Dylan has taken various elements of Folk, Country, Blues, Rock 'n' Roll, Bluegrass, Western Swing, Rockabilly, Pop and just about anything else he has heard and forged them together into his own unique style. On this release we track down the artists and songs that were to play such an important part in Dylan's career. There are folk influences in the shape of Woody Guthrie and Leadbelly, country legends such as Hank Williams and Roy Acuff, old-timey pioneers including Charlie Poole and Clarence Ashley, blues giants like Charley Patton and Blind Lemon Jefferson, rock 'n' rollers Elvis Presley and Little Richard and bluegrass luminaries such as Bill Monroe and the Stanley Brothers.
Also included is a feature length DVD, "Talkin' Dylan" that includes interviews with some of the world's most renowned Dylanologists discussing not only the roots of Dylan but the world of Bob in general.
---
Muddy Waters: Steppin' Stone
(Properbox 152, 2009)  4CD+DVD Box set
Buy the DVD Here

Muddy Waters position in modern music is of great importance. By taking the pre-war Mississippi Delta sounds of artists like Son House and Robert Johnson and amplifying them in Chicago he invented a new strand of blues that was to become influential on a new generation of artists in the 1960's who would use Mississippi Delta Blues as the foundation for their own music. The Rolling Stones, Cream, Led Zeppelin, Jimi Hendrix and many others would have sounded very different if it wasn't for Muddy Waters.
This release explores Muddy's position as the link between the old country blues of the early decades of the last century and the rock music of the 1960s and 1970s that was itself so influential on modern music. The 60 tracks on this set comprise songs that Muddy covered, Muddy's versions of these songs and some of Muddy's originals that would in turn become so important to later artists–resulting in a completely rounded look at his work. This set also includes the DVD, "Talkin' Muddy", that contains interviews with musicians, musicologists. blues scholars and Delta historians discussing his life and work.
---
Howlin' Wolf, The Best Of, 1951-1958
(Properbox 154, 2009) 4CD+DVD, Box set
Buy the DVD Here

We present Howlin' Wolf's finest recordings made between 1951 and 1958 over 2 CDs, the 3rd CD features artists that influenced the Wolf including Charlie Patton, Sonny Boy Williamson, Leroy Carr, Elmore James, Skip James, Jimmie Rodgers and many more. The DVD features interviews with Bob Brozman, Guy Davis, Sid Griffin, Charlie Musselwhite, Paul Oliver & Charles Shaar Murray.
Howlin' Wolf, along with Muddy Waters, defined the Chicago sound of the Fifties and influenced generations of would be Rock stars in the process. Cream, The Rolling Stones, Led Zeppelin, Jimi Hendrix, Jeff Beck, The Doors, Little Feat, The Who, The Grateful Dead, Fleetwood Mac and scores of other important acts have all covered Wolf's songs and come under his spell. Whereas Muddy Waters filtered the Country Blues of Son House and Robert Johnson through his amplifier and into the ears of the world, Wolf built on the foundations laid down by the original architect of the Delta Blues; Charley Patton.
---
Bob Dylan and the Band: Down In The Flood
(SIDVD 571, 2012) DVD
Buy the DVD Here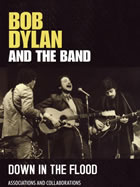 In 1966 Bob Dylan began his first electric world tour. It was a landmark moment, both for Dylan and for the history of rock music, and it bitterly divided his audience. Backing Dylan on stage was an obscure group of Canadian musicians collectively known as The Hawks.
In the months following the tour they would join Dylan during a lengthy convalescence in New York s Catskill Mountains; when both parties re-emerged, Dylan had undergone an artistic transformation that sent ripples across American music and The Hawks had become simply The Band, one of the most important recording groups of their generation.
This is the story of the relationship between Dylan and The Band, the legendary amateur recordings that they made together in Woodstock, their re-invention of American music and their continued albeit sporadic relationship during the 1970s. Featuring new interviews with Garth Hudson; Band producer John Simon; The Hawks 66 tour drummer, Mickey Jones; the man who assembled and tutored the Hawks and from whom they took their name, Ronnie Hawkins; Dylan guitarist, Charlie McCoy; Band biographer Barney Hoskyns; Basement Tapes Archivist, Sid Griffin, Isis magazine s Derek Barker and Rolling Stone s Anthony De Curtis. Also features rare footage, archive interviews, seldom seen photographs and the music that changed the world, all at once making for the finest program on this element of Bob Dylan and The Band s respective and communal careers yet to emerge.
---
Last Shop Standing: The Rise, Fall & Rebirth of the Independent Record Shop
(Deluxe Edition)
(ProperFilm S005, 2012) DVD
Buy the DVD Here
DELUXE EDITION OF THIS CRITICALLY ACCLAIMED FILM. NOW WITH 74 MINUTES OF EXTRAS INCLUDING NEW AND EXTENDED INTERVIEWS.
This is an independent film from an independent film company about independent record shops featuring music by independent bands completely financed by music fans and independent record labels.
The film charts the rapid rise of record shops in the 1960's / 70s and 80's, the influence of the chart, the underhand deals, the demise of vinyl and rise of the CD as well as new technologies. Hear from over 20 record shop owners and music industry leaders as well as musicians including PAUL WELLER, JOHNNY MARR, NORMAN COOK, BILLY BRAGG, RICHARD HAWLEY and NERINA PALLOT as they all tell us how the shops became and still are a part of their own musical education, a place to cherish and discover new bands and new music. Based on the book "Last Shop Standing" by Graham Jones. "Crate digging doc that puts passion before profit… A Brilliant short film" Q Magazine. "A must watch film" MTV.