Gang, I am so very sorry this is not updated more often. The fact is I promised my family I would not go on the computer so much this is why I have close friends maintain a Sid Griffin page on Facebook. The Coal Porters are indeed on Facebook via a page run by the band and not myself. (Please note we try to update our Facebook site frequently with all sorts of cool data AND that you can follow me via Twitter at SidCPsGriffin for more new news and red-hot gossip!)
---
Mr. Griffin displays many chapeaux in his career as a multi-faceted musician, proud author, knowledgeable broadcaster and professional golfer. Okay, only the first three hats get anywhere near his noggin' but they all fit snugly and look quite smart. He is also a proud parent whose weekly column on the 2008 USA Presidential election race was once read throughout Southeast Asia, and a guy who makes excellent cheese mushroom omelettes.
Here are links to all the latest news and updates from his many and varied exploits;
---
The Coal Porters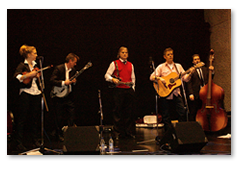 The Coal Porters are the world's first "alt-bluegrass" act and the UK's most entertaining bluegrass ensemble, one firmly established on the European touring circuits. They are performing USA dates in March 2010 including the South By Southwest Festival in Austin, Texas. The Coal Porters live show is polished yet passionate and second to none, having earned them the monicker "the bluegrass Clash". Check the Coal Porters out if you dig quick pickin', warm harmony vocals, contemporary themed original songs and the wittiest stage announcements this side of The Comedy Store.
Click here for all the latest from the band.
---
Long Ryders
The Long Ryders are/were: Sid Griffin guitar, harmonica, autoharp, therapy & vocals, Greg Sowders drums, percussion &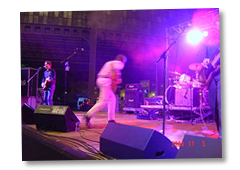 song publishing, Tom Stevens bass, acoustic bass, computer genius & vocals and Stephen McCarthy main guitar, banjo, mandolin, lap steel & vocals.
The Long Ryders were formed Thanksgiving 1982 in west Los Angeles, California. Kentucky born guitarist Sid Griffin left his sixties punk band The Unclaimed after having bonded musically with former Boxboys drummer Greg Sowders at a jam session in the notorious ON Klub in Silverlake. The other guitar player was Steve Wynn but he left to form the Dream Syndicate whereupon Virginia's Stephen McCarthy, a country music lover new to L.A., stepped in after answering a "Musician's Wanted" ad in a local Korean free newspaper.
Click here for the latest updates on the Long Ryders.
---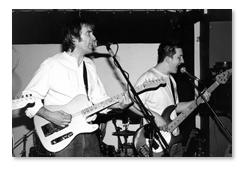 Western Electric
"A deft synthesis of psychedelia, folk, pop, country and trip hop; pedal steel and banjo mate blithely with samples and audio cut-ups…fresh and ultimately a little dizzying…not unlike several different radio stations broadcasting harmoniously at the same time. This is Sid Griffin's best, most assured, most experimental and most ambitious work." Billboard (USA)
Click here for more on Western Electric.
---
Sid Griffin Solo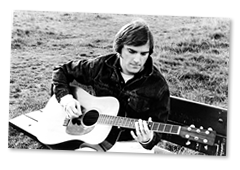 Frequently referred to by BBC Radio One as "a rock'n'roll Renaissance man" and by Ireland's Hot Press as "The Great Enthusiast" Sid Griffin, though born in Kentucky USA, now lives in London where he is ringleader of both the Coal Porters, the UK's leading exponents of Alt-bluegrass as well as Western Electric, alt-country heroes and the creaters of Country & Eastern.
In addition to those chores Sid Griffin records and performs as a solo acoustic act, touring worldwide as well as gaining a whole new profile as a record producer of note. (Pun intended.) He is an author, whose forth and latest book,  Shelter From The Storm – Bob Dylan's Rolling Thunder Years was publised in spring 2010.
Click here for the latest from Sid.
---
The Gram Parsons Connection
Sid is an acknowledged expert on the career of Gram Parsons, having written a book on GP as well as sleevenotes for several compilations of Gram's music, and his band Coal Porters have recorded many of Gram's songs (witness their 1999 CD The Gram Parsons Tribute Concert).
Click here for more information on the Gram Parsons Connection.