🎶 The Coal Porters On Tour 🎶
The first three shows of the Coal Porters Sept/Oct UK tour were all excellent!
Fantastic evening last night @TheGreysPub in the company of The Coal Porters. A must see. Thank you all. @SidCPsGriffin

— Chris Rogers (@rogersch10) 26 September 2017
Terrific repertoire with engaging narrative from @SidCPsGriffin 'The Coal Porters' tonight @thetradesclub Hebden Bridge standing ovation too pic.twitter.com/c3rCfyn4dH

— BayouLevee (@BayouLevee) 22 September 2017
Happy birthday @KerenzaPeacock – great show last night as ever @AshcroftArts @SidCPsGriffin pic.twitter.com/MqhYq0pxYX

— Chris Southon (@cpsouthon) 24 September 2017
If you want to catch the band on this run of UK dates you need to move rapidly as several shows are Sold Out already!
Cardiff Coal Porter fans, remember Llanidloes (This Friday September 29th) and St Donats (Saturday September 30th) are not far away at all so we'd like to see you folks there.
We have friends in the Bristol and Bath area coming to Bridgwater (Saturday October 14th) and as that is the last gig of the tour it will be an AWESOME night, we promise you!
September Tour Dates
28th September (Thursday) – The Square Tower, Portsmouth – SOLD OUT
Tickets: squarerootspromotions.co.uk
29th September (Friday) – The Old Mill, Llanidloes
Tickets: wegottickets.com/event/412483
30th September (Saturday) – St. Donats Arts Centre, UWC Atlantic College, St. Donats, nr Cardiff
Tickets: stdonats.com/events/the-coal-porters-in-concert/
October Tour Dates
4th October (Wednesday) – The Music Room, Liverpool Philharmonic
Tickets: liverpoolphil.com/whats-on/the-coal-porters
5th October (Thursday) – Centre for Contemporary Arts, Glasgow
Tickets: https://tickets-scotland.com/…
6th October (Friday) – Mackenzie House, Strathpeffer, Scottish Highlands
For more info email: macpuffer24@gmail.com
7th October (Saturday) – County Hotel Selkirk, Scottish Borders
Tickets: countyhotelselkirk.co.uk/event/coal-porters-string-jam-club/
8th October (Sunday) – The Green Hotel, Kinross
Tickets: mundellmusic.com/live-music/coal-porters-backstage/
12th October (Thursday) – The Kitchen Garden Café, Kings Heath
Tickets wegottickets.com/event/403519
14th October (Saturday) – Bridgwater Arts Centre, Bridgwater, Somerset
Tickets: bridgwaterartscentre.cloudvenue.co.uk/thecoalporters
---
Also this week Sid was interviewed by the Portsmouth News…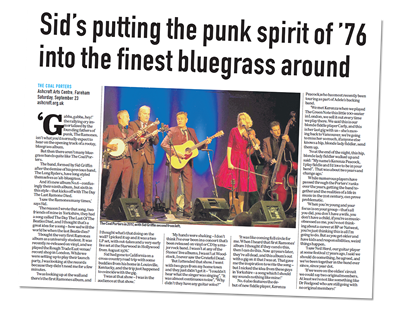 The Coal Porters are putting the punk spirit of '76 into the finest bluegrass around
'Gabba, gabba, hey!' the rallying cry immortalised by the founding fathers of punk, The Ramones, isn't what you'd normally expect to hear on the opening track of a rootsy, bluegrass album. But then there aren't many bluegrass bands quite like The Coal Porters.
'I saw the Ramones many times,' says Sid.
'The reason I wrote that song, two friends of mine in Yorkshire, they had a song called The Day The Last Of The Beatles Died, and I thought that's a great idea for a song – how sad will the world be when the last Beatle dies?
'I bought the very first Ramones album as a university student. It was recently re-released on vinyl, and we played the Rough Trade East venue/record shop in London. While we were setting up to play their launch party, I was looking at the records because they didn't need me for a few minutes.
'I was looking up at the wall and there's the first Ramones album, and I thought what's that doing on the wall? I picked it up and it was a two LP set, with out-takes and a very early live set at the Starwood in Hollywood from August 1976.'
Sid had gone to California on a cross-country road trip with some buddies from his home in Louisville, Kentucky, and the trip just happened to coincide with the gig.
'When I saw The Ramones play in '76, I was reconnoitring, as the military say. I'm from Kentucky and I thought, do I want to go to Nashville to make it? Nah, it was so unhip in the '70s, Do I want to go to New York? Nah, it was so dirty in the '70s. It wasn't like it is now at all.
'So we went to California it was just like a 10 day trip. It was summer, we were in school, and we just drove across the country. I loved it and I still love it.'
When looking back on that Starwood gig, it's clear that Sid is still as much a fan as he is a performer.
'I was at that show – I was in the audience at that show.'
'My hands were shaking – I don't think I've ever been in a concert that's been released on vinyl or CD by a major rock band. I wasn't at any of the Stones' live albums, I wasn't at Woodstock, I never saw the Grateful Dead.
'But I attended that show. I went with two guys from my home town and they just didn't get it – "I couldn't hear what the singer was singing", "It was almost continuous noise", "Why didn't they have any guitar solos?"
'It was like coming full circle for me. When I heard that first Ramones' album I thought if they can do this, then I can do this. Now 40 years later, they're all dead, and this album's out with a gig on it that I was at. That gave me the inspiration to write the song – but I nicked the idea from these guys in Yorkshire – a song which I should say sounds nothing like mine!'
Read the full interview online here.
---