Q&A with Sid
Originally published on the medleyville website on September 22nd, 2016.
Q&A: SID GRIFFIN/COAL PORTERS
Blending musical elements, whether they're complementary or seemingly disparate, remains a matter of course for Sid Griffin.
During the 1980s heyday of The Long Ryders, that meant mixing 1960s-flavored rock, some punk and a little bit of country. As for The Coal Porters, they also march to the beat of a different drum — figuratively speaking, that is. Formed by Griffin in Los Angeles as an electric act, the now England-based, all-acoustic and drummer-free band uses instruments not associated with bluegrass, its core genre. On top of that, the quintet's song lyrics sometimes address atypical subjects.
Those topics include Tommy Erdelyi, aka original Ramones drummer Tommy Ramone. He's at the core of "The Day the Last Ramone Died," the first track on No. 6, the new Coal Porters album, which was released this month on Prima Records.
That song is a narrative based on Griffin's first time seeing the legendary punk quartet in concert.
"What a revolutionary performance it was," Griffin recalls. "Most younger rock fans have no idea whatsoever how different The Ramones were — how odd it was [in the mid-1970s] to see a band play a 30-minute set with two-minute songs and no chat between songs, just a guy counting out, 'One, two, three four!' "
Medleyville.us: How soon after Tommy Ramone's death did you write "The Day the Last Ramone Died"?
Sid Griffin: "Tommy Ramone was playing a form of bluegrass music when he died [in a duo called Uncle Monk]. I thought it was fascinating an original Ramone was playing bluegrass after the band broke up, but looking back, I can see both punk and bluegrass are very honest, no-jive forms of music, so the connection is not so far-fetched.
"When he died [in July 2014], I was reminded all four original Ramones are deceased. A friend of mine wrote a song called 'The Day the Last of The Beatles Dies,' and I admired it, so I immediately figured the world needed a song called 'The Day the Last Ramone Died.' I had the title for weeks but could not get the song going, and then I figured I would sing about the first time I saw the Ramones play [in August 1976 at The Starwood in West Hollywood].
"In many ways, The Ramones are like Bob Dylan. Both acts were initially thought to be modern and the 'new era,' but in reality, both acts are agent provocateurs from the past. Look at Dylan with his emphasis on Americana and the Bible and Hank Williams before anyone knew to call it that. Look at The Ramones with their short songs, short sets and band-uniform look: They had more in common with Herman's Hermits or The Animals playing in 1965 than they did with any act playing rock music in 1975."
The lyric "They looked quite a sight, like The Shadows of Knight" is clever and visually accurate. Was it a struggle to come up with that line?
Griffin: "No, this was easy. I bought the very first Ramones album in late May 1976 because their hair and visual stance on the front cover reminded me of The Shadows of Knight, and I was hoping they would sound like The Shadows of Knight — which they kinda did and kinda did not. But without those bowl haircuts on Johnny and Dee Dee, I might not have ever bought the album. However, I am so glad I did."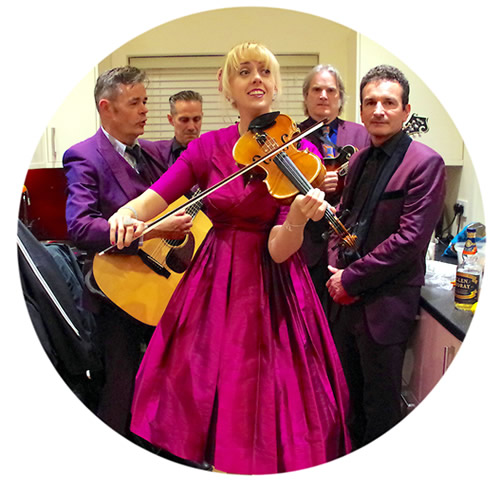 Whose idea was it to cover The Only Ones' "Another Girl, Another Planet"? Was everyone in the band familiar with it?
Griffin: "The Only Ones' cover was our guitarist Neil Robert Herd's idea. He wanted to do it with a tempo like 'Wagon Wheel' by the Old Crow Medicine Show, a band he had road-managed and done house sound for in Europe.
"The Coal Porters had played festival gigs in Scandinavia with The Only Ones, so we knew their set pretty well — plus, everyone in the U.K. knows 'Another Girl, Another Planet' anyway. As a band, they were not the most positive people I have ever been on a bus with; they were rather polite but withdrawn. However, with our music, people like radio programmers see or hear a banjo and they about poop their trousers. So when they see you have covered a song they know from their misspent youth, they rather calm down and maybe even give you a chance."
In what ways are bluegrass audiences around the world similar and different?
Griffin: "We call what we play 'alt-bluegrass,' actually. By this I mean we do not play 'Little Maggie,' 'Blue Moon of Kentucky' and lots of bluegrass covers, valid as those song are. And we use non-bluegrass instruments like autoharp, harmonica, bajo sexto and so on, and there is a brilliant Cuban trumpet solo on the song 'The Blind Bartender' on the new album. A more traditional bluegrass band would never have any of that or songs with themes about dead punk rock stars, blind bartenders or breaking out of a state prison.
"So we play more indie venues than we do traditional ones. We usually play indie venues, universities, folk clubs, taverns that have a room for acoustic music and festivals of any kind. Our exposure to a traditional bluegrass audience is usually limited to the festivals we have played in the USA, such as Festival of the Bluegrass outside Lexington, Kentucky.
"One thing to say here is: At bluegrass gigs, you are always treated fairly and paid on time. I have been cheated out of the fee at rock gigs with bands. This has never, ever happened at a bluegrass gig, not once. And bluegrass audiences listen to the music more; rock audiences respond to hits and grow restless at new music, and this is the opposite of bluegrass audiences."
With No. 6, The Coal Porters have surpassed the combined total of proper studio releases by The Long Ryders and your subsequent Western Electric band. As a solo artist, your catalog consists of three albums. Will there be a fourth in the not-so-distant future?
Griffin: "I will do a fourth Sid Griffin solo album in 2018 or so. The last one, [2014's] The Trick Is to Breathe, did very well for me, and I traveled around Europe a lot on the back of it. I am assembling songs for [the follow-up] now and trying to figure out if I want to record in Nashville again with the great Thom Jutz or go work in Barcelona or perhaps northern Italy, where I have friends who own really good studios."
— Introduction and interview by Chris M. Junior
Photo by David Bragg.