No. 6 – London Album Launch Party
The Coal Porters new album, No. 6, is produced by John Wood, the legendary British folk-rock mastermind who recorded the classic albums of Fairport Convention, Nick Drake, Beth Orton and Squeeze. No. 6 is a bit of a departure for the Coal Porters as it pushes their musical boundaries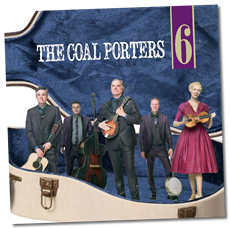 further than ever before.
To celebrate the release of their first new album in three years the No. 6 Album Launch Party takes place at the prestigious Rough Trade East in London…
Rough Trade East (that's a totally cool record shop)
Old Truman Brewery, 91 Brick Lane, London, E1 6QL
https://www.roughtrade.com/events/the-coal-porters
ph: 020 7392 7788
The Coal Porters on stage 7pm sharp!
Purchase of No.6 either online via this link ( https://www.roughtrade.com/events/the-coal-porters ) or in store on the day of the show will guarantee entry to the event.
With the bands September Green Note gig a Sell Out – this will likely be your only chance to catch the band in London this year!
This new album features Kerenza quadruple tracking herself into a string quartet, Andrew on a ukulele, Sid on trusty autoharp and mandolin, both Neil and Paul on dobro, a Byrdsy acoustic 12-string guitar, and very emotional, long, sweet trumpet solo by Cuba's noted "son y mambo" music virtuoso Eikel Venegas. There has never been music like this before. And already, the album's opening track, Sid's "The Day The Last Ramone Died," is being hailed as a classic (and a much viewed video on YouTube).
Recorded in two creative bursts in late 2014 and in 2015 this is the Coal Porters album which took three years to incubate. Four new Sid songs, three new Neil Bob Herd originals, and Kerenza Peacock contributed her first recorded lead vocal on a very personal song with Play A Tune while also gracing the record with a totally catchy instrumental, Chopping The Garlic. The album goes out on a high note with the band's warm-hearted cover of the Only Ones' classic hit Another Girl, Another Planet.
No.6 is released September 2016 and can be ordered via Amazon UK and Amazon.com and in the Sid Griffin Store
Remaining September Tour Dates are as follows…
23rd London – Tickets SOLD OUT!
24th New Milton – Tickets
27th London (Album Launch Party!) – Tickets
29th Cambridge – Tickets
Check out the official video for The Day The Last Ramone Died:
.
No. 6 is also garneting some very fine reviews, check out the latest ones below:
Reviews for No. 6
International Reviews