2016 Long Ryders UK Dates…
Following several sell out gigs in Spain and one in Sweden (check out the above fan recoding by instadrugi of I Had A Dream as performed in Malmö on May 1st) The Long Ryders kick off the UK leg of the tour tonight with a show at the Fleece in Bristol.
Bristol 24/7, who interviewed Sid here, had this to say ahead of tonight's gig…
"The Long Ryders should really need no introduction if you are a fan of, well, damn good music. They burst on to the scene during the days of the Paisley Underground and made something of themselves in the UK – appearances on Whistle Test, charting singles and LPs and some storming live shows. Then they broke up. There have been some reunion gigs since, but this one is based around a rather splendid career retrospective – Final Wild Sons – four discs covering virtually all of their studio work supplemented by outtakes, B Sides and a live gig. Peerless stuff and at a very reasonable price at most record emporiums (virtual and fleshy). If you haven't seen them you can expect Byrds / Burritos / Springfield licks and harmonies delivered with some commendable heft and plenty of vigour (a couple of the inkies lumped them in with Jason and the Scorchers as cow-punk bands; mind you, they often played Pistols tunes live)."
The Remainder of the European Dates line up as follows…
May 2016
We've just received this fine, fine review of the Madrid show by Fenando Neira and online another from Johnny JotaJota on woodyjagger.com (Some great photos in that one too!)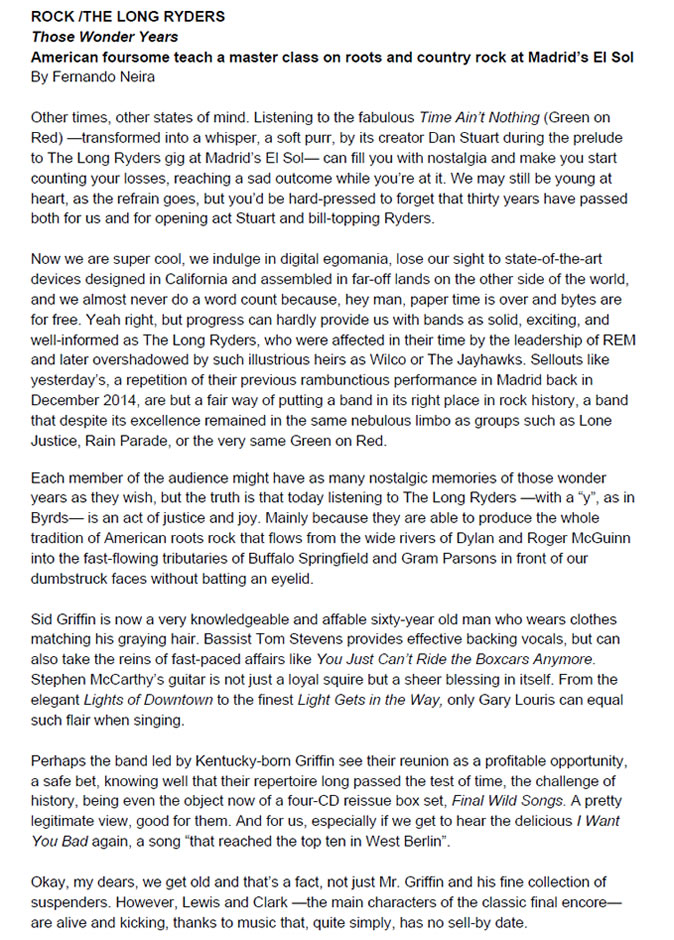 And there is yet more to come from The Long Ryders as they recorded a new session just yesterday with the legend that is Bob Harris…

May 2, 2016. The Long Ryders, with BBC radio legend Bob Harris in centre, discuss 12 string guitars at Western House.