Final Wild Songs – Out Now!
The long-awaited Long Ryders box set, Final Wild Songs, is released by Cherry Red Records today.
Over two years in the making, the box set successfully encapsulates and illustrates everything Sid Griffin's legendary Americana/Alt-country ensemble was known for.
Featuring around four solid hours of country-punk-rock power this is not only a definitive box set it is an inspiring one. After all, there was no Americana music genre before The Long Ryders existed, they brought this wonderful idea, sound and authenticity to the public's attention. And there was no radio music format called Alt-country, but after the Long Ryders rode into down with their mixture of pure rock & roll, country & western, punk energy (without the safety pins), and well-crafted songs, things were never the same again.
With a booklet featuring a track-by-track commentary by the Long Ryders plus a fold-out poster designed by the great Phil Smee, the UK's most daring graphic artist, this box set is the one to get should you wish to remain the hippest cat on your block. FINAL WILD SONGS …unforgettable.
Final Wild Songs can be ordered direct from the fine people at Cherry Red and also via Amazon UK or Amazon USA.
Buy Final Wild Songs via:
Cherry Red Records shop.cherryred.co.uk/shopexd.asp?id=5257
Amazon.com amazon.com/Final-Wild-Songs-LONG-RYDERS/dp/B01891FQ8M
Amazon UK amazon.co.uk/FINAL-WILD-SONGS-LONG-RYDERS/dp/B01891FQ8M/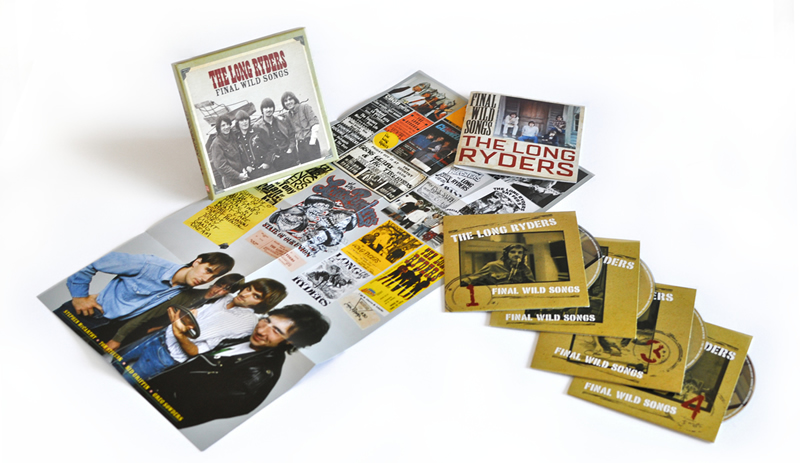 Read more and see the complete tracklisting now at The Long Ryders new website – thelongryders.com/Final-Wild-Songs.html
The Long Ryders Online:
The Long Ryders Website thelongryders.com
The Long Ryders Facebook Page facebook.com/The-Long-Ryders-206678626039432/
The Long Ryders Facebook Group facebook.com/groups/TheLongRyders
The Long Ryders on Twitter twitter.com/Longryders
The Long Ryders on Spotify play.spotify.com/artist/26mSNyxjAsV5HSb7vAHu1W