Finally, Final Wild Songs
Finally, after Tom Stevens and Sid have spent over a year compiling and organising it, the Long Ryders four CD box set is out on January 22, 2016. Entitled FINAL WILD SONGS this is the definitive Long Ryders collection.
The first three CDs are the very, very best tracks the band has to offer from all the record labels the band were on, both indie and major, plus these three CDs contain eight previously unreleased songs, nine selections only released in the USA, the band's live version of Looking For Lewis And Clark from BBC TV's Whistle Test show, two radical remixes of State Of Our Union songs from a single which never was, and a Top Secret hidden brief track designed to surprise everyone.
Yet is it CD four which proves once and for all the Long Ryders truly are, as comic Stewart Lee stated, "one of rock's great undiscovered bands like the Flamin' Groovies and Big Star". For the fourth disc is a live Long Ryders radio broadcast from The Netherlands in March 1985 where the guys are positively on fire, burnin' down the house as if their very lives depended on it. And even better the track listing features the only live versions of several topnotch Long Ryders songs which were played for that one tour and one tour alone, so the song selection does not, not, not reflect that of Three Minute Warnings: The Long Ryders Live In New York City.
To crown this box set's glory the artwork is by Phil Smee, Sid's dear pal and the UK's most creative graphic artist.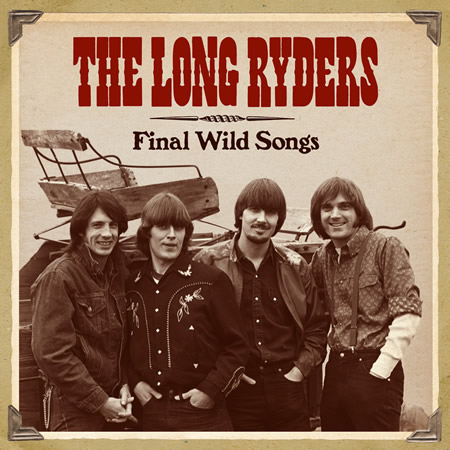 Final Wild Songs features many previously unseen photos of the Long Ryders, bits of memorabilia contributed by their fans, a fold-out poster, song-by-song comments by five (yes, five!) Long Ryders and a charming introduction by Rolling Stone's ace writer David Fricke, a man who is perhaps the Long Ryders greatest fan.
To sum it up, this is a career pinnacle for the band and something every Sid Fan/Americana/alt-country/roots rock & roller will want to own. (Plus Cherry Red have very reasonably priced it.)
Final Wild Songs can be pre-ordered direct from the fine people at Cherry Red here and also via Amazon UK or Amazon USA.