Final Wild Songs
The Long Ryders box set, Final Wild Songs, is released on January 22nd, 2016 via the Cherry Red label.
With tracks from EVERY label the Long Ryders were ever on this is a very special box set indeed. Featuring four CDs and many unseen photos and with each track having commentary from one of the band it is housed in a beautiful package designed by the legendary Phil Smee, the UK's best LP/CD cover artist.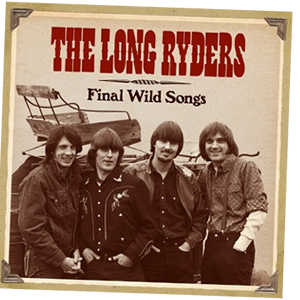 The first three CDs have many rare tracks and over a dozen unreleased cuts in addition to containing all the tracks from the 10-5-60 EP and all the best tracks from the Native Sons, State Of Our Union and Two-Fisted Tales albums.
Also included is a special secret surprise cut we dare not tell you about now…yep…and the crackin' live version of Looking For Lewis & Clark from the BBC TV Whistle Test broadcast which shot the Long Ryders to fame in the UK and much of Europe.
In answer to the many queries, yes, the Long Ryders hope to do some very special shows in 2016 to support Final Wild Songs. These shows will not be ones to miss as the band many never saddle up and play again.