The Coal Porters – Now On Tour
The Coal Porters hit the road early on Friday September 4th for concerts in Scotland and England. Dates are as follows…
4th September (Friday) – Sedgefield Folk Festival, County Durham
Sedgefield, County Durham TS21 2AQ
Stage time 10pm www.sedgefieldfolkfestival.co.uk/
5th September (Saturday) – Fife, Scotland
Letham Nights, Letham Village Hall, Fife, just off the A92
Phone. 01337 810372 www.letham.org.uk/lethamnights
6th September (Sunday) – Glasgow, Scotland
Sounds In The Suburbs, Woodend Lawn Bowling & Tennis Club 30 Chamberlain Road, Jordanhill, Glasgow G13 1QG
Phone. 0141 959 1428
7th September (Monday) – Hawick, Scotland
'String Theory' – Also on the Bill: Ivan Drever
Tower Mill, Kirkstile, Hawick Roxboroughshire TD9 0AE
Phone: 01450 360680 www.facebook.com/stringtheoryhawick
8th September (Tuesday) – Edinburgh, Scotland
Leith Folk Club Victoria Park House Hotel Edinburgh
221 Ferry Road Edinburgh EH6 4NN
Phone. 07502 024852 – www.leithfolkclub.com
13th September (Sunday) – Winchester
The Railway Inn 3 St. Pauls Hill, Winchester SO22 5AE
Phone. 01962 867795 – www.railwaylive.co.uk/
14th September (Monday) – Brighton
The Greys, 105 Southover Street, Brighton, Sussex, BN2 9UA
Phone: 01273 680734 – www.facebook.com/TheGreysPub
24th September (Thursday) – Baston (near Peterborough)
The Barn, Main Street Baston (near Peterborough) PE6 9PA
tickets: £10 – http://community.lincolnshire.gov.uk/tradition…/section.asp…
26th September (Saturday) – Hastings, England
The Stade Open Space (covered performance area)
Rock-A-Nore Road, Hastings Old Town, TN34 3FJ
FREE entry – The Coal Porters onstage 7:30pm
October
2nd October (Friday) – Allenheads, Hexham
Allen Valleys Festival, Allenheads, Hexham, Northumberland, NE47
Phone: 07769 672557 – www.allenvalleysfolkfestival.co.uk/
3rd October (Saturday) – Helmsley Arts Centre
Helmsley Arts Centre, Meeting House Court, York YO62 5DW
Phone: 01439 771700 – www.helmsleyarts.co.uk
15th October (Thursday) – Camden School for Girls Benefit
16th October (Friday) – Ampfield, Romsey
Ampfield Village Hall , Morleys Lane, Ampfield, Romsey, Hampshire SO51 9BJ
Hog the Limelight/Hampshire Rural Touring series
Phone: 023 8025 4040 – www.ampfield.org.uk/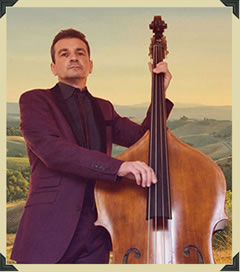 More good news from the Coal Porters camp is that Ex-Coal Porters bassist Andrew Stafford returns to the very bosom of the CPs family after three years…hats in the air, eh? Andrew even has his new mulberry suit ready to both rock out and match the suits of Paul Fitzgerald, Neil Bob Herd, Sid G and, ahem, Kerenza Peacock's near-purple frock.
Andrew has been much missed by the Coal Porters. A fine, fine bassist already he has been taking singing lessons and is now an accomplished harmony singer so get ready to hear him warble his way into your heart as well as musically thump his way forward.
Many will remember Andrew played on the majority of the tracks on the last Coal Porters album, Find The One, and he has been missed by a sizeable section of the CPs' audience ever since he left the band to devote himself to his law practice.