The Condensed Sid Griffin Newsletter
The new Updated & Revised version of Sid's book Million Dollar Bash: Bob Dylan, The Band & the Basement Tapes is out now.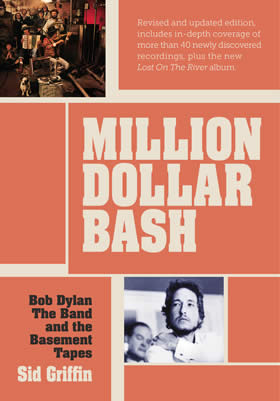 Currently the best-selling Dylan book on UK Amazon it is available in any good book store as well as the usual on-line outlets.
With 13,000 additional words now every single Basement Tapes song is cataloged. You discover where each Bob Dylan song was recorded, who played on what, and so much more. The Band's Woodstock recordings are discussed as are each and every song from T-Bone Burnett's "new" Basement Tapes project, Lost On The River. Surely the perfect compliment to the Dylan fan in your house who is currently pouring over the six CD box set of Basement Tapes just released by Sony Music…a Dylan box set which features liner notes by, ahem, Sid Griffin.
Available now – SidGriffin.com / Amazon – UK / Amazon – US
Sid Griffin – The Trick Is To Breathe
The Trick Is To Breathe is Sid's first solo album in a decade and one worth waiting for.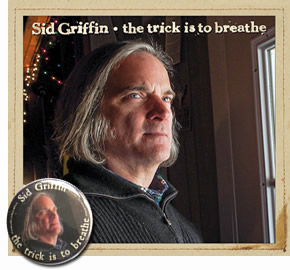 Recorded entirely in Nashville, Tennessee with both old and new friends it is currently Uncut magazine's Americana Album Of The Month and has received rave reviews everywhere it has been heard. Featuring ten new Sid Songs, one poem (!), and a stellar uptempo cover of The Youngblood's immortal Get Together this is what the music industry calls a Statement Recording from Sid and his pals.
Mandolin virtuoso Sierra Hull unforgettably picks her way into your heart with every riff, Nashville session veteran Justin Moses plays banjo, fiddle and dobro like the God of stringed instrumentation he is, Kentucky Thunder's seven-time (!) Grammy winner Mark Fain plays bass, and Paul Griffith, who has pounded drums for half of the country music industry, slapped the skins with sticks for Sid. The combination of Sid's songs and musicianship from these Nashville cats is something to behold, a musical meeting of the minds you will not soon forget.
More information and purchase links here
By the way there is a video of every song heard on The Trick Is To Breathe.
They are found several places on the Internet but it might be easiest to visit YouTube to see them all in one sitting. For starters try Sid's song 'Blue Yodel no. 12 & 35', found on YouTube via a great video done by Tom Stevens! https://www.youtube.com/watch?v=iWrpmaY1JdU
The Coal Porters
The Coal Porters have finally started recording the follow-up to their late 2012 album, Find The One. Again the man producing is none other than John Wood, producer/engineer for so many classic LPs by Fairport Convention, Nick Drake, Squeeze, John Cale and Beth Orton. Half the album is completed already after recording sessions in London at StrongRoom Studios in the heart of hipster Shoreditch.
With the final half of the album to be recorded in late February the Coal Porters are planning a May release for this new album, as yet untitled (but the working title is Explosions In The Custard Factory), but things are looking good. Guitarist Neil Herd says the six songs completed "are audibly the best and most creative work the band has ever done".
For the CPs' new album six songs were recorded; Train No. 10-0-5, Save Me From The Storm, The Day The Last Ramone Died, The Old Style Prison Break, and two covers, the first being The Only Ones' 1978 hit Another Girl, Another Planet and the second is Edwin Starr's immortal R&B protest song, War. New Coal Porters fiddler Kerenza Peacock (heard on all the recent Adele and Paul Weller albums) and banjoist Paul Fitzgerald (heard in pubs the width and breath of Kent) were a joy to work with, are both extremely talented pickers, and fit incredibly comfortably into the Coal Porters style and stance.
The Coal Porters play live this December
17th December (Wednesday) – Special Christmas Show! – London
What's Cookin'… Upstairs @ Leytonstone Ex-Servicemens Club
2 Harvey Road Leytonstone, London E11 3DB
whatscookin.co.uk
free with collection / doors 8.30pm
Coal Porters onstage 9.30-ish
19th December (Friday) – Staines Riverside Club, Surrey
Staines Riverside Club
6 Laleham Road, Staines, Surrey TW18 2DX
9.45-11pm
Free Entry…a bucket is passed and tipping is, ahem, "encouraged"
The Coal Porters – Bookings Being Taken
The Coal Porters are now booked by Strada Music and the man to contact is no less than Graham Smout, a legend in the business. To contact Graham to get a Coal Porters gig in your area please call 0845 4967049,email graham.smout@stradamusic.com or visit stradamusic.com/artist/the-coal-porters/
Graham is booking gigs as far ahead as Christmas season 2015, yes 2015, so he is indeed a busy guy and the right person to represent Sid Griffin & Company.
The Long Ryders 2014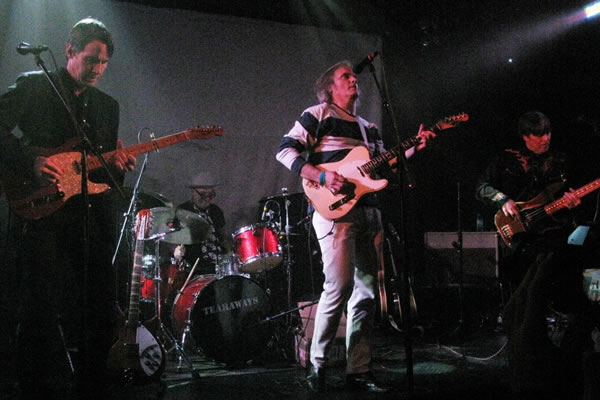 The Long Ryders play four shows in Spain the first week of December.
There are no other shows planned.
However there is a four CD Long Ryders box set coming out on Cherry Red Records in the first half of 2015 so, with luck and a fair wind, there will be Long Ryders concerts scheduled in your neck of the woods to accompany this box set release.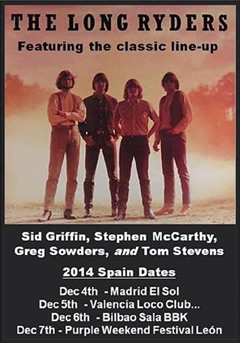 For all the very latest direct from Sid, sign up for the Sid Griffin Newsletter.
They get sent out around once a month and should keep you up to date with anything and everything Sid Griffin, The Coal Porters and The Long Ryders related.
Each newsletter contains an opt out link just in case you want to stop receiving them and we promise to keep your email private and to not share it with anyone else.