Sid Griffin – The Trick Is To Breathe (CD)
SID026 – Sid Griffin – The Trick Is To Breathe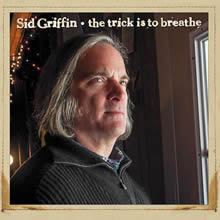 £9 including P&P (UK customers) £10 including P&P (Rest of world)
Ode To Bobbie Gentry
Blue Yodel No. 12 & 35
Circle Bar
Between The General And The Grave
Elvis Presley Calls His Mother After The Ed Sullivan Show
Everywhere
Get Together
Front Porch Fandango
Punk Rock Club
Who's Got A Broken Heart
We've Run Out Of Road
I'll Forget You Very Well
The Trick Is To Breathe is Sid Griffin's first solo album in a decade. Recorded in Nashville, Tennessee at the home studio of Thomm Lutz in February 2014 it was a joyous, easy and (almost) carefree session, the entire album completed in four days.
"Before Christmas I had sent some Nashville friends acoustic demos of my songs and of my new arrangement of a version of The Youngbloods' great Get Together. These men and women had learned the songs off my demos and most of the songs we recorded were second takes…in fact these players are so accomplished I don't think any track was recorded in more than four takes," recalls Griffin.
Sid played mandolin on two tracks, guitar on about six more, but the core of the band was Mark Fain from Ricky Skagg's Kentucky Thunder outfit on bass, the great virtuoso Sierra Hull on mandolin, Paul Griffiths on drums, Thomm Jutz on guitar, Justin Moses on banjo, fiddle and dobro, and gospel legend James T. Brown on backing vocals. Other than Thomm Jutz and Paul Griffiths none had met Sid before the sessions began.
The Trick Is To Breathe announces Sid Griffin is back on the world stage as a solo artist, globe-trotting troubadour and singer-songwriter. "It's a great record, it really is, my best songs ever and you can play them with a group behind you as I did in Nashville or they can be performed by me solo.
I am in a good space as the saying goes and The Trick Is To Breathe is going to help keep me there. Yes, I am an American who lives in Europe but my heart resides south of the Mason-Dixon and it shows on this album. I can't wait to tread the boards again and play these songs for the people."
---