Music Is Love
Music Is Love may be the most noteworthy compilation of 2012. Twenty-seven tracks written by Crosby, Stills, Nash or their friend Neil Young it is a charity record with the money going to fund a riding centre where urban low-income kids can ride and take care of horses…many of these youngsters never having seen a horse except on TV. So that most Californian of bands now has a tribute CD funding a very Californian cause.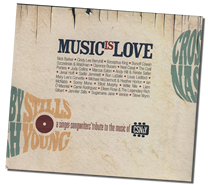 The Coal Porters are the last track on the first CD. Offering up a live version of Stephen Stills' The Fallen Eagle off Stills' 1972 Manassas LP the Coal Porters do themselves, bluegrass and CSNY proud. Other artists on this fine release include Judy Collins, Elliott Murphy, Willie Nile, Cindy Lee Berryhill and Mary Lee's Corvette.
Take a look at the review from Mojo Magazine
For more information or to buy your copy visit musicislovetribute.com.