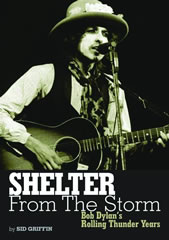 Shelter From The Storm – By Sid Griffin
Sid Griffin's fourth book, second and most recent in his acclaimed Dylan series, Shelter From The Storm, is now available from this website for only £7 inc P&P worldwide!
This is Sid's study of Dylan's 'gypsy circus' years encompassing Blood On The Tracks, Rolling Thunder, Desire, Hard Rain and his mid-1970s' TV appearances. Featuring fresh interviews with Roger McGuinn, Arlo Guthrie, Ramblin' Jack Elliott, Kinky Friedman, Academy Award winner T-Bone Burnett, Dylan's childhood chum Louis Kemp and a host of other Dylan cronies Shelter From The Storm proves an engaging and dynamic read and well illuminates the Rolling Thunder era of Dylan's career, shedding light in some previously dark, dark corners.
£7 including P&P (Worldwide!)