Shelter From The Storm by Sid Griffin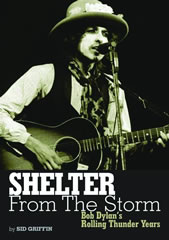 In the fall of 1975 and spring 1976, Bob Dylan led a traveling retinue of musicians around America on the two legs of the Rolling Thunder tour. Along for the ride were Joan Baez, Roger McGuinn, Ramblin' Jack Elliott, David Blue, Kinky Friedman, T-Bone Burnett, Allen Ginsberg, Sam Sheppard, Mick Ronson, and dozens more musicians, friends, family and hangers-on.
The circus was documented in the film Renaldo and Clara, the live album Hard Rain, and a TV concert special of the same name, while in between the two legs of the tour Dylan released the classic Desire album. It is this period of heightened creativity and personal drama that Dylan-authority, author, and musician Sid Griffin examines in Shelter from the Storm.
Interviewing many of the tour's participants including musicians Roger McGuinn, T-Bone Burnett, Kinky Friedman, Arlo Guthrie, Ramblin' Jack Elliott, and tour manager Louie Kemp, Griffin mixes meticulous musical analysis into a gripping narrative in this definitive account the Rolling Thunder years.
Shelter From The Storm is in bookstores in the USA and Europe Now!
Order now from this website:

Shelter From The Storm – By Sid Griffin
Sid Griffin's fourth book, second and most recent in his acclaimed Dylan series, Shelter From The Storm, is now available from this website.
£7
including UK P&P
£10
including Worldwide P&P
Order now from amazon.co.uk or amazon.com