The Coal Porters : Durango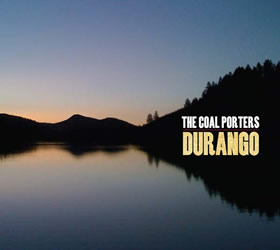 Durango has been such a success that after knockin' 'em dead at SxSW, Americana & the Folk Alliance festivals in the USA the Coal Porters are in the best shape of their career(s).
Durango is the fourth "alt-bluegrass" album by ex-Long Ryder Sid Griffin's outfit, The Coal Porters, an album Mojo, Uncut, Q, The Daily Mail and others have given four star reviews!
Featuring the amazing fiddle of Carly Frey, the songs and mandolin of author/broadcaster Sid Griffin as well as the witty songs of Scotland's fine guitarist Neil Robert Herd 'tis no wonder Durango is one of the choice musical highlights of the year.
Produced by the amazing Ed Stasium (Ramones, Smithereens, Jeff Healey Band, Belinda Carlisle, etc., etc.) the album features two key guest appearances: the first being Tim O'Brien who plays a wild mandolin solo on Roadkill Breakdown and the second being Peter Rowan who duets with Miss Frey on his own song Moonlight Midnight. This is the sound of a bluegrass Clash, of a Bill Monroe for the 21st century, of a folk Goddess, two ex-punks, an Americana founder and …errr…a London lawyer making the best music of not just their careers but their lives. Read what the critics have already said about Durango:
"Griffin's breakneck bluegrass band has made the album of their career"
**** (four stars) Q magazine
"a feast of highly crafted ensemble playing with the odd virtuoso turn"
**** (four stars)Uncut
"the audio equivalent of a feel-good movie"
**** (four stars) Mojo
"a wonderful achievement by a band that is going from strength to strength"
**** (four stars) Country Music People
You can buy Durango now at the Sid Griffin Store or via amazon.co.uk or amazon.com you can also now download all Coal Porters releases on iTunes
listen to a sample here;
Audio clip: Adobe Flash Player (version 9 or above) is required to play this audio clip. Download the latest version here. You also need to have JavaScript enabled in your browser.